Compiled by Team IAnD
Photography: Koen Van Damme & Nik and Tam
Read Time: 2 mins 30 secs
.
VSHD Design culls out an ambience of personalised luxury in the midst of Dubai's busiest residential neighbourhoods; absolutely cut away from prying eyes!
Surrounded by low-rise houses, the 1600 sq. m. home stationed on a relatively small-sized plot is abundantly blessed with natural light and oozes self-indulgence of a different kind. L-shaped, the inward-looking plan plays heavily on the privacy card as it shields family time at the internal pool and the lush garden. A timber overhang completes the geometry of the "L" to give privacy to the internal corridor from the street side.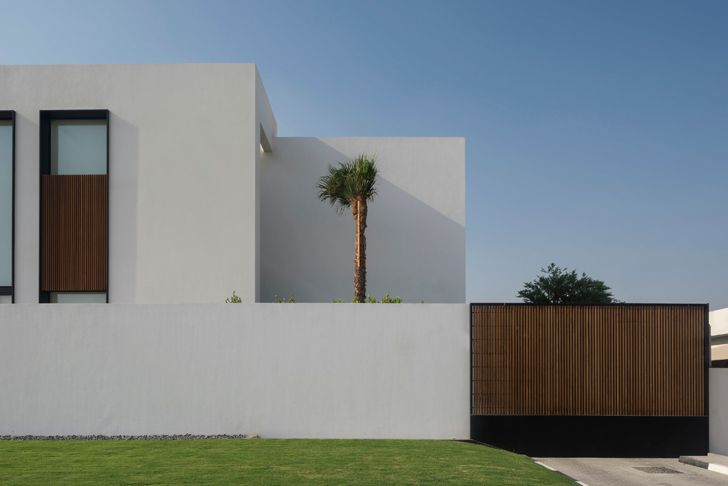 .
.
A marked challenge in the project is the definition of grandeur. In a region where grandeur is still widely expected to be shiny with lots of glitter, a mood of grandeur is created using a magnificent space minus all the usual glitter. A space that one would normally experience in museums and grand galleries!
.
.
.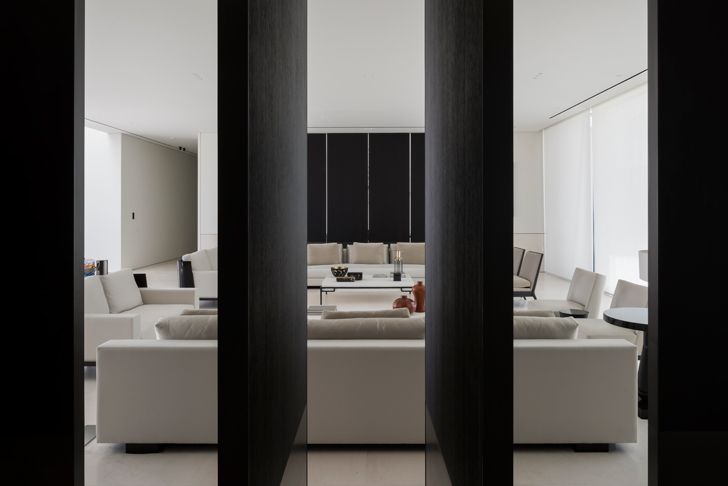 .
And, this kind of grandiosity could only be achieved through mastering proportions, the use of natural materials and ample light. Consequently, scale is key in this project where all the openings are fitted with doors and windows that reach the ceiling level giving all these objects a powerful presence and allowing for ample natural light.
.
.
The entry experience starts at the boundary wall making the most out of the plot size. The main entrance is a linear glass box with high glass panels on walls and ceiling. The internal L outline is transparent with large spans of sliding glass doors. The large glass panels have a slim linear profile creating a seamless boundary between the outdoors and the indoors. This opens up the house to a view of the pool and garden and creates a visual link between all the living spaces.
.
.
The living is an open space that houses the family dining and kitchen. Full-height partitions and doors are designed to give the option of privacy or full view of the garden and pool. The reception area centred between the dining and study has two large pivot doors on both sides of the room. The dining room is a double-height space with a grand gallery feel.
.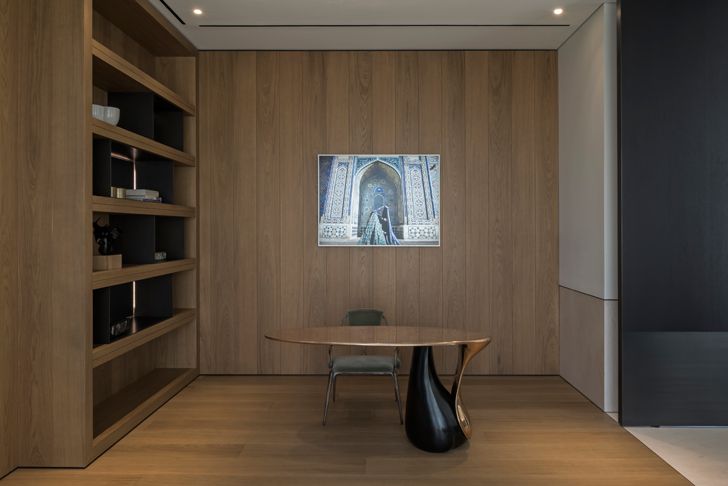 .
Materiality comes into play as the high doors in brushed oak and bronze complement the work of art by Syrian artist Diana Al-Hadid titled Duomo. The lift lobby clad in bronze alloy; a bookcase in natural oak with backlit display boxes in solid bronze; the powder room with walls and floors in honed stone finish, accented with bronze accessories create a palette of rich authentic materials and textures. Timber screens with minimal steel structure that
slide along the perimeter of internal facade filter light and create a complex play of light and shadow.
With diligence as its signature, award-winning interior architecture firm VSHD led by Interior Architect Rania Hamed lives up to its reputation for developing design experiences that are distinctive, compelling and of superb quality and individuality.
Project: The Burj Residence
Lead Designer: Rania M Hamed
Project Manager: Bryan Miranda
Location: Dubai, United Arab Emirates