By Vinita Wagh
Photography: Wouter van der Sar; courtesy v2com
Read Time: 2 mins
.
Munich's Hotel Andaz, conceptualised by architecture and design studio Concrete celebrates the deep-rooted art, culture and urban life in the city.
Crafting an inspiring experience, the hotel interlaces technology and tradition to render a unique interior taut with drama. Its design weaves characteristics of Bavarian culture across scales and details, especially the diamond shape - taking after the Bavarian flag. Abstracted icons symbolic of Munich create highlights, while traditional materials receive a modern makeover through a contemporary expression.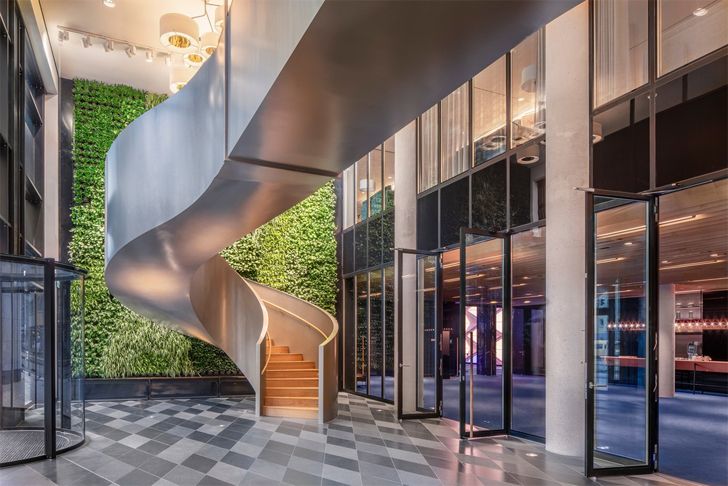 .
.
.
Starting from the lobby, the ceiling comprises of an interwoven network of rough wood and high-gloss anodised metal, forming underneath it a hybrid space that ties all functions together. The lounge and bar feature an oversized diamond pattern over the natural stone floor, the same mirrored across the back-lit ceiling, and diamond-shaped columns, two storeys high.
.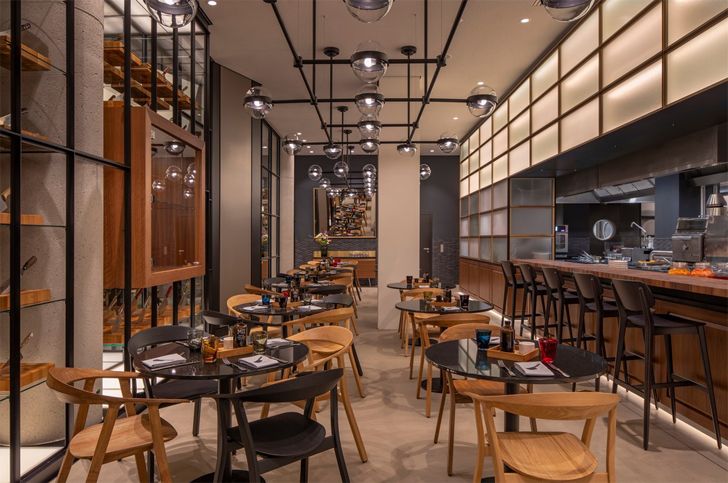 .
The restaurant, under its steel and glass hood, showcases an open kitchen and charcuterie bar - its focal an iconic glass display wall that features a collection of butcher cleaves. The hotel ballroom too has a diamond-shaped ceiling that spans three-dimensionally and folds down to the floor om one side. With programmable lighting moods, this ceiling is an absolute showstopper. Against the plain white surfaces and sheer curtains, the diamond pattern of the blue carpet is another eye-catching element.
.
The sky bar offers a panoramic view over Munich. Clad in exclusive materials of brass ad petrol tones, the space exudes opulence and richness. The pivotal centrepiece here is a bottle rack facing the bar, back-lit shelves and bottles reflecting iconic visuals.
.
.
Add caption
The hotel rooms take inspiration from modern lofts – spacious, open-plan and presenting sweeping city views. Raw steel frames divide the space to create a contemporary en-suite. A café sits in the annex building, its décor echoing a picnic setting – casual and unpretentious, its high glass façade connecting to the outdoors on three sides. The spa features organic spaces that flow seamlessly. Embellished with natural materials, soft greens, oaks, light tile mosaics and brass accents, the space radiates calm. The iconic spiral staircase on the upper floors is another highlight.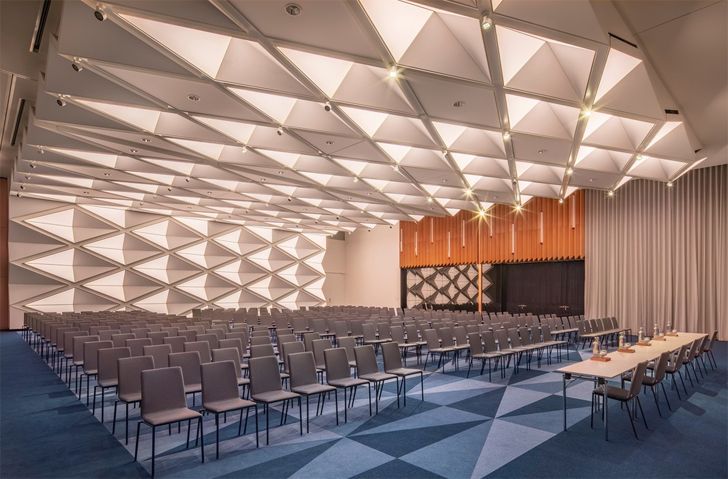 Add caption
.
.
As such, reflecting a kaleidoscope of moods and appeals, Hotel Andaz paints a stimulating picture of all things Munich.
Project: Hotel Andaz Munich
Design Firm: Concrete, Amsterdam
Location: Munich, Germany