By Ar. Romil Sheth
Photography: Courtesy Sasaki
Read Time: 2 mins
.
Are our institutional campuses keeping pace with a continuingly progressive socio-economic scenario? Are the educational buildings ready for the students of the morrow? Ar. Romil Sheth ponders a solution…
Today's educators and administrators face the rewarding challenge of balancing tried-and-true methods with a host of newer technology and approaches. How can colleges and universities find the right vision that works for their institution? What are the defining elements of the 21st century campus? And, how does a university—centuries-old or built-from-scratch—infuse its campus spaces and population with these elements?
Ar. Romil Sheth lists four broad parameters to illustrate his team, Sasaki's approach to creating a flexible, adaptable, and enduring 21st campus.
#1: Future Proof: Build a flexible campus framework
Digital fabrication enables the design of modular buildings, where every aspect of the facility - its components, its performance, and its constituent parts - are pre-designed as a set of families and elements. This approach extends to the campus level to develop a flexible framework that evolves over time. A toolkit of clusters includes all required components - academic, housing, research - and establishes new relationships between traditional departments.
.
.
#2: Heart & Soul: Breathe life into a holistic and sustainable vision
The burgeoning holistic wellness movement promotes environmental and programmatic elements that support many aspects of daily life: physical, emotional, intellectual, spiritual, social, and financial well-being. The future campus emphasizes the holistic development of each student—mind, body, and spirit—by integrating diverse forms of active and passive recreation, social spaces, green spaces, and inclusive environments.
.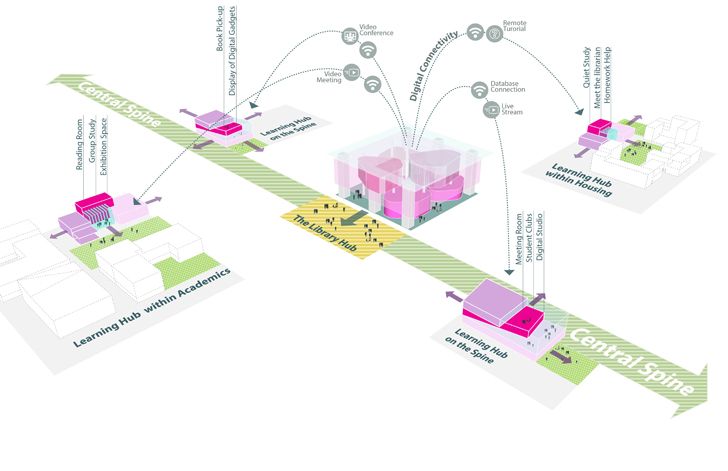 .
#3: The Next Wave: Embrace new technologies to transform campus
Virtual reality, telepresence, and digital representation technologies will form global portals that allow universities to be at the forefront of disseminating knowledge, engaging in a global discourse and showcasing work. Digital infrastructures will connect universities to institutions and businesses, locally and globally. Universities will increasingly focus on experiential, project-based learning facilities, personalized learning, MOOCs (massive open online classes), and online certification programs.
.
#4: Testing, Testing: Nurture a focus on experimentation
"Learning by creating" is a revolutionary force in which ideas of prototyping, disrupting, hacking, and making are taking traditional education and workplaces by storm. This movement is creating great opportunities for universities to rethink models, break down silos, and engender new forms of multidisciplinary thinking.
About the author: Sasaki principal Romil Sheth is an urban designer and architect. His work encompasses diverse project types from campus to urban innovation districts around the world. He can be reached at
rsheth@sasaki.com