By Ar. Vinita Wagh
Photography: Adam Letch; courtesy SAOTA
Read Time: 2 mins
Kloof145 Residence (inset) Ar. Phillippe Fouche, Director SAOTA
SAOTA shapes this Cape Town residence to blur the unmistakable thresholds between landscape and architecture, drawing on soft transitions and honest expressions.
Sitting on the western slope of Lion's Head in a wind protected locale, the residence captures beautiful views of the surrounds. With the aim to revive and empower the qualities of a natural terrain, the residence explores the shift between nature and structure.
.
.
The steep slope plays a momentous role, its excavation accommodating the staggered levels of the structure. Conceived as a heavy stone plinth outlining a gabion-walled exterior, the lower level is an independent apartment. Inside, dark-stained oak and off-shutter concrete, emulates the mountainous strata of the surrounds. Above, a green terrace and braai area form a transitory space, emblematic of the landscape's foliage level. Akin to a folded ribbon, a sculptural timber staircase winds its way through the levels, lightening in tone as it rises.
A prominent exterior feature, the vertically slatted box, hovers over the terrace. The screens open and close, adjusting the degree of natural light streaming inside, underlining the feeling of sitting in the shade of a large tree. Engineered to withstand Cape Town's impulsive weather, the aluminium panels are durable and lightweight, their finishes reflecting the different colourations of a tree bark.
.
Add caption
Add caption
.
.
.
.
.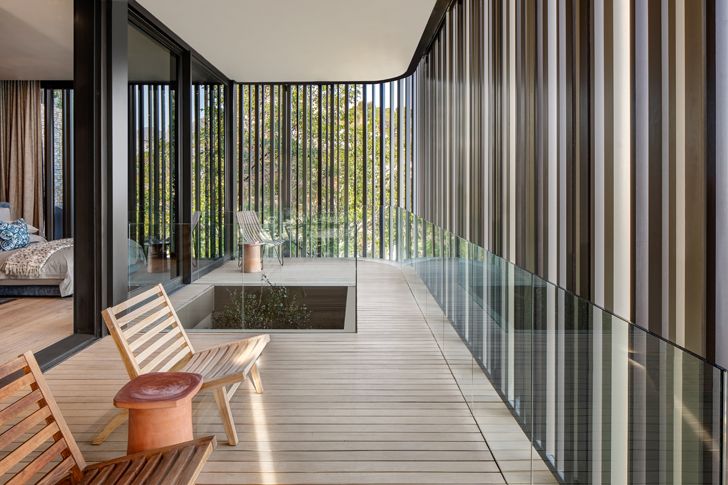 .
The living level above is set back to keep with the slope of the mountain, ensuing visual privacy and acoustic buffering. The courtyard forms the visual extension of the space towards the mountainside, allowing for ventilation and light. The concrete ceiling shuttered with rough sawn planks, wooden floors and timber clad scullery, together exude a raw, visceral appeal and articulates natural materiality. At the top, the master bedroom overlooks the treetops. Decorated with white marble, pale timber, skylights and foldaway glass walls, the rooms breathe in the light and air.
Marked by the unique character of the terrain at the back, this rugged yet elegant residence advocates sensitivity in design and verity in materials.
Project Team: Phillippe Fouché, Nilene Slabbert, Mias Claassens & Thabiso Nkoane
Interior Designers: Cecile & Boyd
Location: Cape Town, South Africa