By Ar. Vinita Wagh
Photography: Maurizio Marcato, Enrico Galvani e Photo-Ring
Read Time: 2 mins
.
Studio Apostoli, with their design for the Vision Hotel, beautifully balance the experience of a modern interior with a technically advanced, sustainable exterior – all the while, celebrating the senses.
Peschiera del Garda, located along Lake Garda in Italy's Veneto region, is a UNESCO city famed for its idyllic mix of history and countryside. The hotel perches just off the beach and offers sweeping views of the lake. Built on a 6000 sq. m. plot and structured across three floors, the hotel consolidates within the structure the construction techniques of wood, Xlam and steel that enabled its assembly in a record 60 days! Distinguished by great freedom of design, the wooden construction boasts thermal, anti-seismic and eco-sustainable qualities. With a total of 3869 cu. m. of wall and ceiling elements, it is undoubtedly the central backbone of the project.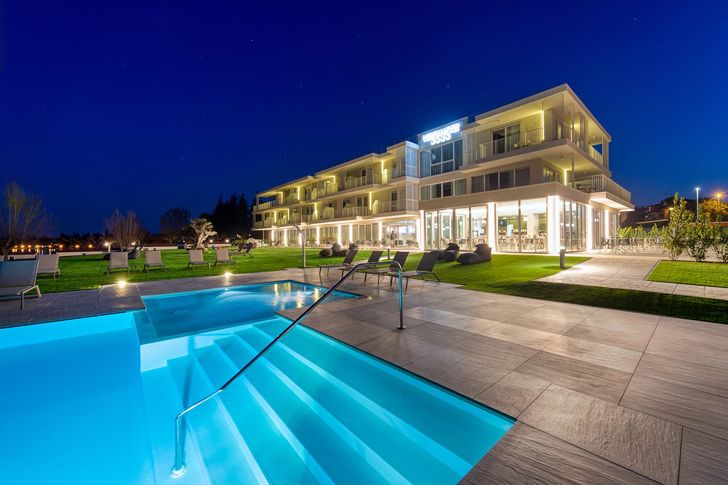 .
.
Add caption
While the expansive façade lends identity through its protruding volumes and deep overhangs, staggered balconies animate the resulting asymmetrical spaces, defined prominently by a veil of sunscreen panels, arranged arbitrarily. White string courses and brise-soleils break the light grey of the structure, exuding muted elegance. Large windows subdue the structure's resilient form, empowering the context, establishing a design language that holds its own and yet does not steal the limelight from the beauty of the surroundings – one where the context is a fundamental element, part of the design and embodied in the experience.
.
The external safety staircase sits within an expanded metal volume that counterbalances the main stairwell, imparting symmetry to the structure. The LED strips within metal profiles outline the rectilinear details of the façade, presenting a graceful image even at night. Photovoltaic and solar thermal panels provide enough energy for charging electric cars.
.
.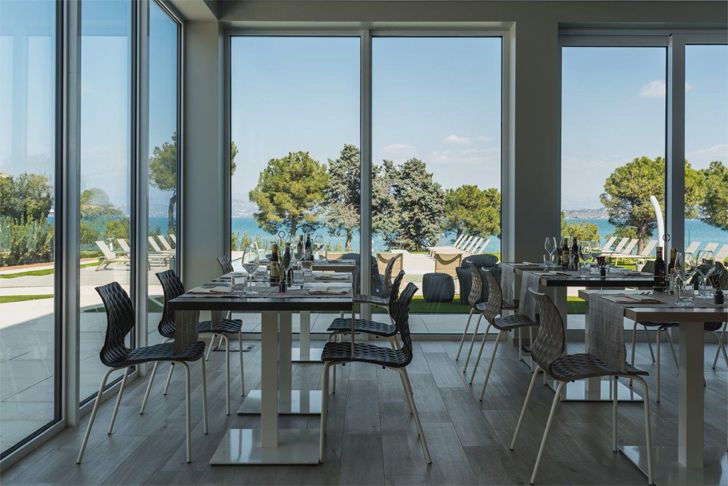 .
.
.
Indoors, while specific colours and graphics characterise the floors, the rooms flaunt young and informal design, rooted by wooden beams – the composition evoking an exciting response.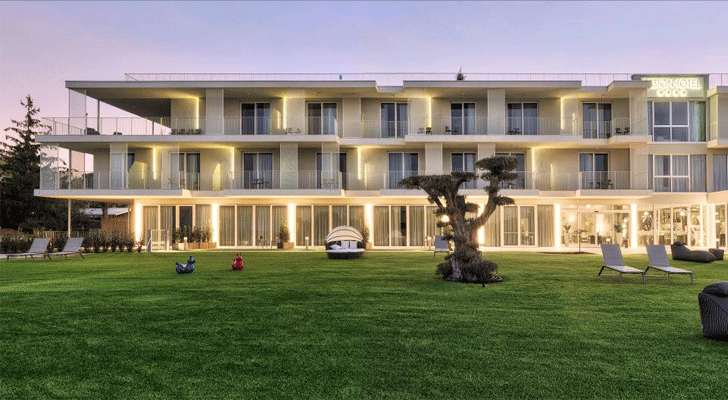 .
Harmonising a sense of place, Hotel Vision establishes an ambiance that predominantly introspects, while still makes a lasting first impression, connecting to the natural terrain.