Compiled by Team IAnD
Photography: Matthew Millman Photography; Courtesy v2com
Read Time: 2 mins
.
Studio VARA creates a small, flexible home with a large presence – a
formidable challenge given the generous program within the limited allowable footprint of the petite corner plot…
Weaving the architecture, interiors, furnishings, and landscape into a seamless, integrated whole, this Palo Alto home hosts a family of five and is conceived on the lines of a Rubik Cube featuring tightly interlocking spaces that expand outward into a landscape of intimate yet generous outdoor rooms.
.
.
To break up the massing and achieve lightness within a compact, rectilinear envelope, the exterior reads as a composition of stacked volumes: board formed concrete for the basement, cedar and larch siding for the main level, and dark panels of zinc for the top floor.
A series of metal and wood sunshades, screens, and railings add a fine-grained scale and tactile decoration to the composition. From the street, the house appears to hover lightly above the ground, recessing the basement below decks, allowing deep light wells to penetrate underground and provide light and air to a full basement.
Carefully considered window placement adds ornament and rhythm to the façade; while, in the front yard, multiple layers of low fencing, hardscape, and plants of various heights, textures, and colours buffer the front façade from the sidewalk.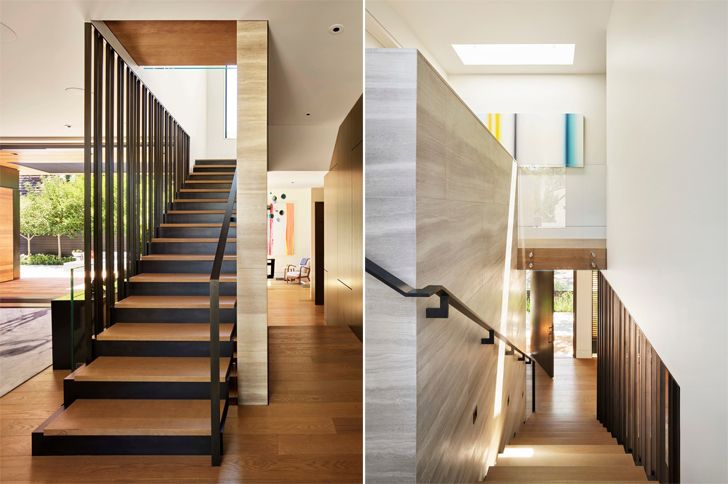 .
Inside, sumptuous materials and sophisticated detailing make the home feel large and luxurious. The ground floor is carved away in the centre to wrap around a central courtyard as uninterrupted floor-to-ceiling glass walls allow the outdoors and daylight to penetrate the house and maximize sightlines to achieve a feeling of spaciousness.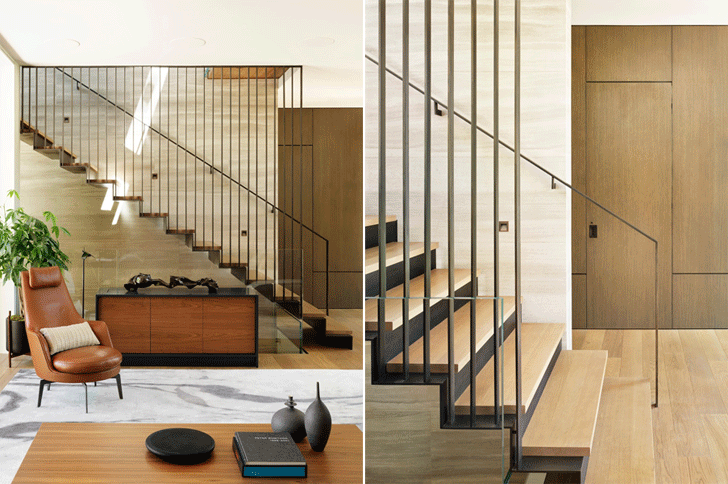 .
Elegant, carefully considered cabinetry and built-ins in the kitchen and entertaining areas on the main level ensure that the open plan does not feel loft-like. A three-story sculptural steel stair channels movement and light as it cascades along a central stone-slab wall, anchoring the entire house and unifying the three levels as light pours in from a skylight and a large window in the stairwell.
.
.
.
Texture, colour, and furnishings are meticulously layered piece by piece to ensure they fit seamlessly, and every object is given enough space, resulting in a home that feels rich, spacious, and elegant.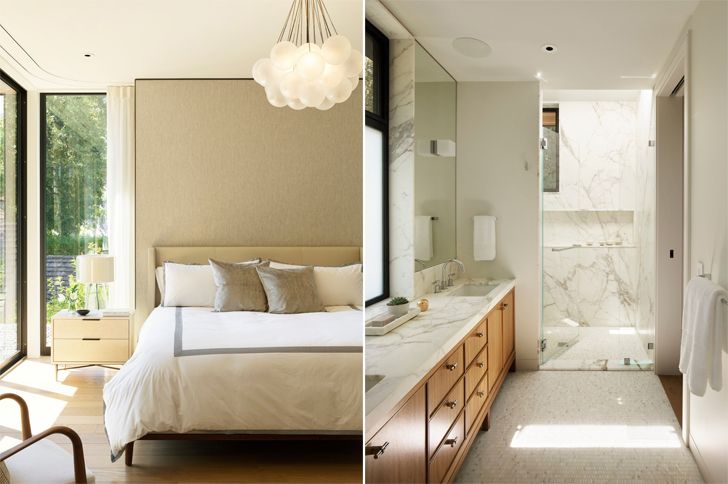 .
Upstairs, the master suite and bedrooms are strategically organized to ensure privacy and views outside. The level of detail and ornament lend a human scale and hand-crafted feel to the abstracted forms and dramatic materiality of this modern home.