By Rutvi Ashar
Photography: Emre Dörter Studio Rino; Courtesy URBANJOBS
Read Time: 2 mins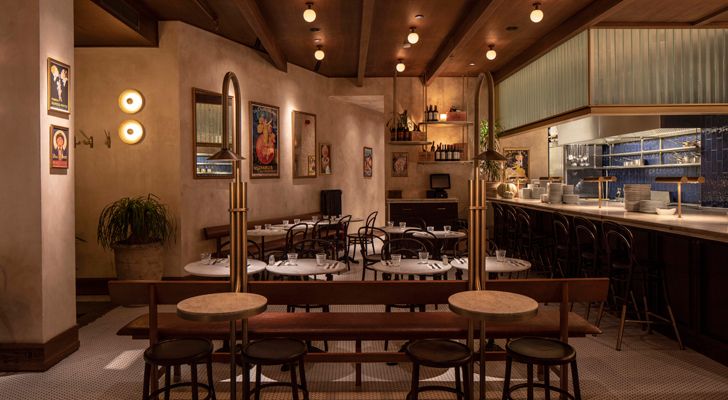 .
Istanbul-based design studio, UrbanJobs does a fabulous job of re-designing the same place, twice-over, for a new employer, reinstating their creative genius…
Batard, as the name suggests, is a café with French influences located in the Bomonti neighbourhood of Istanbul. Interestingly, the café is in a space that was also previously designed by Murat Dede led UrbanJobs. While re-designing the place, they were asked to modernise the old concept without disturbing the French influences.
The bistro aimed at attracting the neighbourhood fraternity, who would see the café as a local haunt – a place for a casual visit, fun and quality time. Consequently, the profile of visitors shaped the design further.
A genuineness trickles through as an open and unaffected-by-global-trends space constitutes the Batard Bomonti: a place full of petite, novel details. As the space unfolds before the user, one increasingly feels like the metaphoric café is like a bohemian artisan, exhibiting well-built installations with attention to smallest elegant details. For example, whilst the use of gold-finished accessories combined with deep blue may seem over-extravagant if viewed in isolation, when paired with basic marble counters and rustic wood furniture, they create a harmonious balance that exudes chic vibes.
And it is not all about aesthetics. Technical details too are treated as wondrous noticeables; for example, the entrance door uses hinges to ensure automatic closure; joinery is exposed, and chiaroscuro is played upon to add a transient element to the design. The restaurant has something to offer to each of the five senses; and the cuisine is customised to the vintage mood too.
The designer's adroitness and due diligence, using restraint in order to avoid overdesigning, thus, subtly comes to the fore.
Principal Designer/Architect: Murat Dede
Built-up Area: 110 sq. m. (1184.03 sq. ft.)
Location: Bomonti, İstanbul