By Beverly Pereira
Photography: Highlight Images; Spencer Huang; courtesy the architects
Read Time: 2 mins
.
Known to craft unique identities for its clients, Ippolito Fleitz adopts a millennial-friendly approach to design a progressive sales centre for real estate developer CIFI in Chongqing, China - one of the world's largest cities...
Young professionals are a discerning bunch when it comes to buying a home. Millennials aspire for an identity-driven lifestyle that involves a proximity to nature, art and experiences. Mirroring these very values, the Stuttgart-based design studio fine-tunes the blueprint of the CIFI Group's "Landscape" sales space, birthing an identity marker that represents the aspirations of young home buyers.
.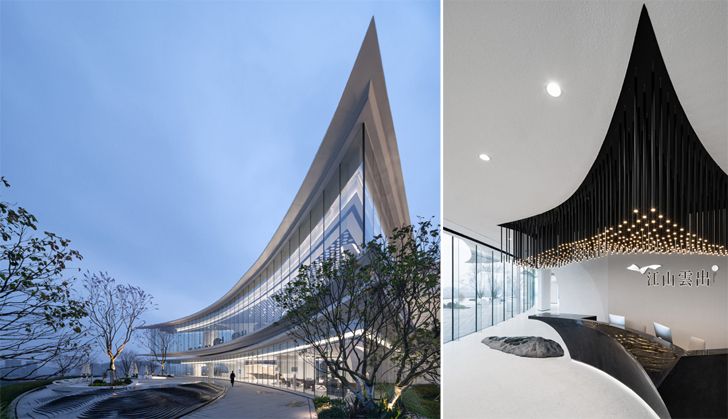 .
Located in a mountainous region on the outskirts of Chongqing, the two-storey structure has a pronounced fluid form that merges with the forested landscape. Wrapped in a translucent glazed façade, the edifice brings in sweeping views of the surrounding landscape, instantly forming a visual connect with the outdoors.
.
.
.
.
.
From the outside, it appears more like an art gallery than a sales centre. The 1700 sq. m. space employs a sophisticated, monochromatic palette of finely graduated white and grey tones; its interiors playing a fitting home to statement pieces of furniture, lighting fixtures and works of art.
.
.
.
The striking, fluid interior unfolds along curvilinear walls, partial enclosures, and an eye-catching staircase, guiding the journey across two levels, revealing facets of the brand and the project as unexpected elements. While the ground level highlights the brand identity, indicative of the lifestyle being offered; the upper level services an introduction to the project itself from the architecture and design to the natural connect using models and multimedia
.
.
In their signature style of 'less is more', sweeping views of the seamless outdoors anchor the building in the natural habitat as plush light fittings and wide expanses of seeming nothingness hold the potential home buyers in awe of the location and the property. In fact, once the real estate phase reaches its completion, the sales centre is versatile enough in its design to be repurposed as a restaurant or club house!
.
Architecture and Design Firm: Ippolito Fleitz
Team: Ruth Calimlim, Wei Gao, Peiyu Ho, Peter Ippolito, Jose Miso, David Tong, Yu Yan
Location: Chongqing, China