Photography: Maarten Willemstein; courtesy the designers
Read Time: 2 mins
.
Studio Modijefsky works hand-in-glove with the Nieuwe Bouwen architectural style to transform its rich architectural character into a contemporary, trendy taproom…
Amsterdam's iconic, former tearoom 'Blauwe Theehuis' is now a taproom for Brouwerij't IJ.
Located in the ever-vibrant Vondelpark and built in 1937, tearoom 'Blauwe Theehuis' draws inspiration from the Nieuwe Bouwen architectural style, the Dutch adaptation of Bauhaus. Resembling a flying saucer perched amidst the lush greens of the park, the teahouse calls attention to functionality, modern materials, raw finishes and a lack of ornamentation.
.
.
.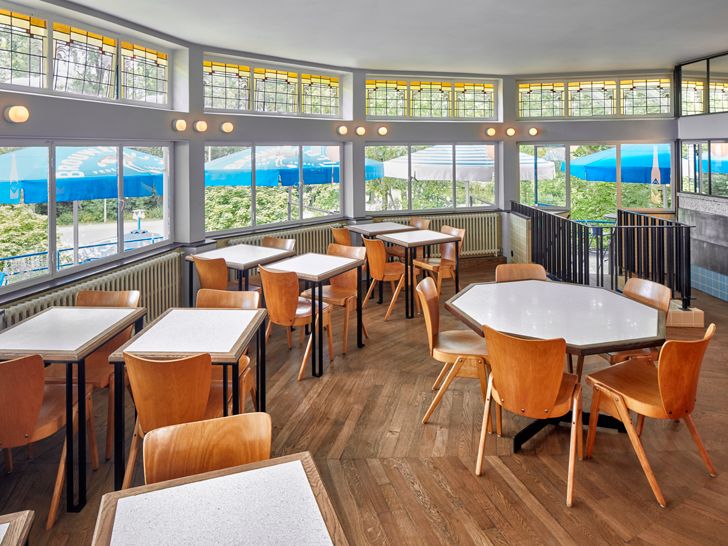 .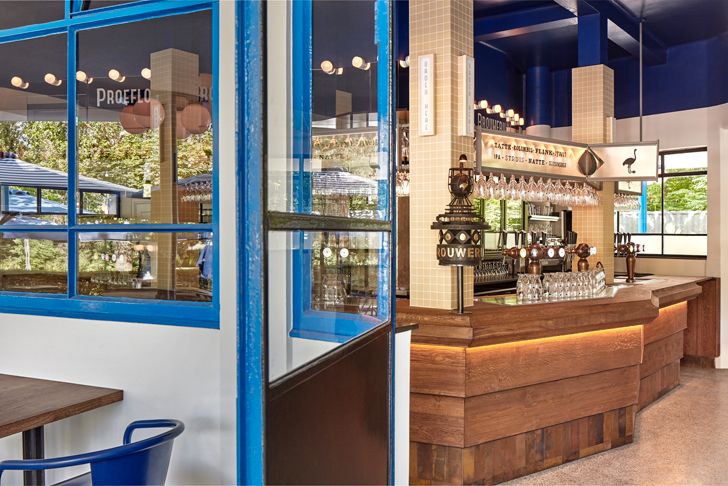 .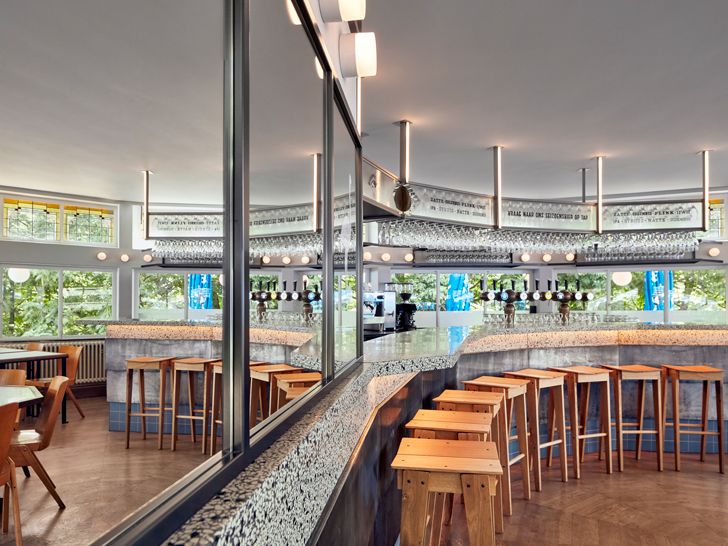 .
Consequently, the redesign strongly emphasises not just the original steel glass frames, zinc details and granite flooring, but preserves the white and blue colour palette that is characteristic of the monument. Concrete, glass and steel – the classic modernist materials find their way into interior elements, collectively forming a dramatic backdrop. The use of warm wood and aged brass accents effortlessly balance out the original cold, hard finishes. The brand of Brouwerij 't IJ is referenced throughout the design, by way of their logo – as a bar detail and through artwork, paying homage to both the architecture of the building and the microbrewery.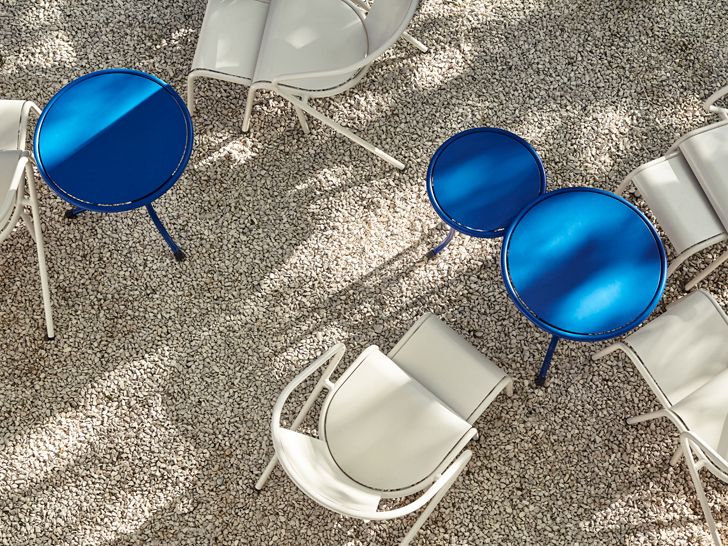 .
.
.
The geometric form of the structure translates into a dodecagonal floorplan, with the front bar forming the heart of the space. The symmetrical, wooden bar follows the lines of the façade, (the bar top employs terrazzo while aged zinc plates and blue square tiles clad the front), facing three sharp angled entrances simultaneously, while the irregular, mirror clad back bar reflects the rich, outdoor landscape. Three supporting steel columns hold the glass rack above whereas lighting enunciates the curved shape of the plan. The floor above hosts a small, fully glazed restaurant room with a circular rooftop terrace. The concentric wooden floor adds another dimension to the spatial plan, as wooden and vintage furniture and accents embellish this space.
Over 1000 sq. m. of terrace surrounds the structure, fostering a versatile environment. Citing the original structural elements of the teahouse, custom-made blue poles support spherical luminaires and string lights that illuminate the space.
.
As such, the Studio celebrates the history of the place through a fresh, contemporary redesign that inventively borrows from the past.
Aerial view

©

Marc Faasse
Program: taproom & restaurant
Client: Brouwerij 't IJ, Drie Wijzen uit Oost
Design: Studio Modijefsky; Esther Stam, Moene van Werven, Agnese Pellino, Natalia Nikolopoulou, Zahra Rajaei
Size: ground floor: 64,5 sq. m. + terrace: 1265
sq. m.
first floor: 59,5
sq. m.
+ upper terrace: 250,5
sq. m.
Location: Amsterdam, The Netherlands