By Savitha Hira
Photography: Saranin Artemy
Read Time: 2 mins
.
Saranin Artemy of Studio ALLARTSDESIGN uses a Boho-chic style statement to establish an out-and-out Italian café in Russia…
Music festivals, football, rocket production, industries, universities… the city of Samara in the Middle Volga region of Russia is known for all the aforesaid and more. Saranin Artemy pays homage to the youthful spirit of the city as he designs 'Robbi' – an Italian café located on the first floor of a library building in the heart of the historical centre.
.
.
.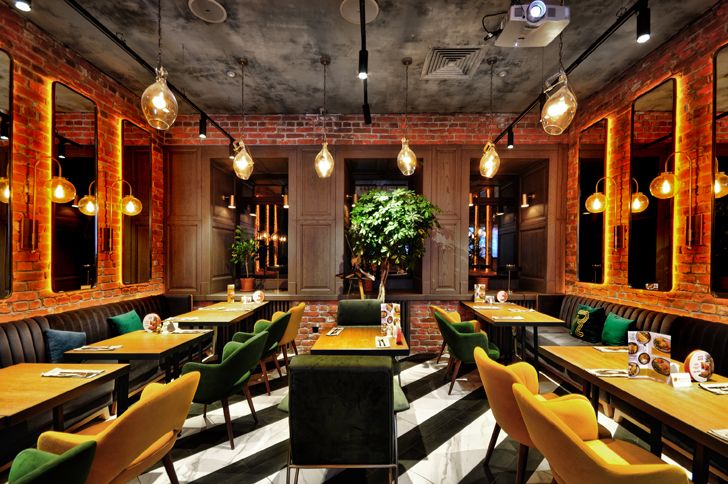 Add caption
The café comprises two areas – the main snack bar and the wine room. Tracing the 'mindset of youth in Italy through different eras' as the thematic, the designer works on three elements as the foci of the design: a bold colour palette; cultural ethos via art, sculptures and books; and a Bohemian design style.
Seeming somewhat chaotic at first glance, the interior is an assiduous melange of busy patterns in an industrial envelope of exposed brick walls and exposed metallic ceiling juxtaposed with earthy primary-coloured furnishings; whilst a monochromatic diagonally striped flooring holds the palette together harmoniously.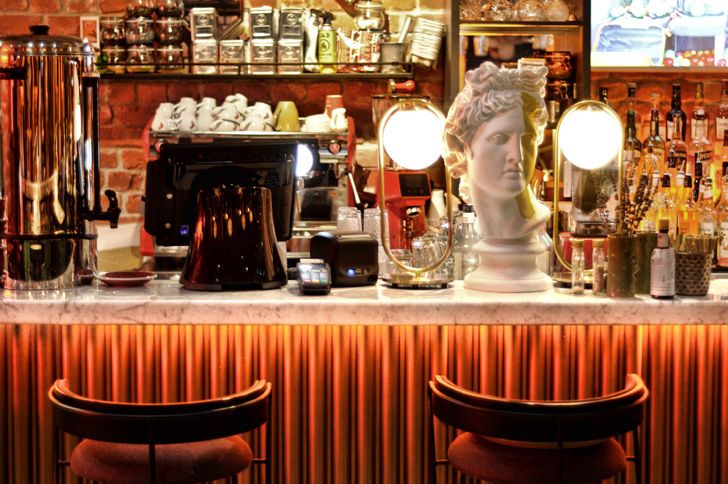 .
.
Sculptures and imagery of the likes of David, Hercules, Moses…, a contact bar, with a visually crowded atmosphere, the décor of which is contextualised by its canopy of hanging glasses; floor-to-ceiling book shelves with books and knick-knacks, and mirrors and warm lighting contribute to a heady space offering multiple points of visual interest.
.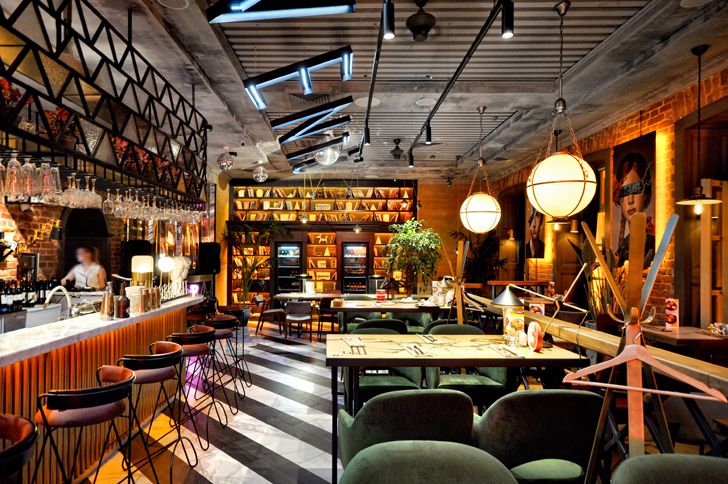 .
A highlight of the café is an unusual pizza oven - in the form of the head of Hercules in which Roman pizza is cooked, right in the mouth. The head is so big that it rests on the ceiling. Another element of interest on the ceiling is a readable chandelier in the form of letters Gioventù, which translates from Italian as YOUTH, and opposite each letter are Bill-Mayer-style quirky portraits of human-animals, where flora and fauna are imagined as high society individuals.
.
With an Italian menu that offers several favourites, and the sommelier with his perfect accompaniments of wine, the Robbie Café sports a lovable enthusiastic mix that is sure to attract the youth and leave them with an unexpected cultural take-away!
Project name: Robbi
Client:
Million Family
Design company: ALLARTSDESIGN