By Ar. Vinita Wagh
Photography: Hannu_Rytky; courtesy the architects
Read Time: 2 mins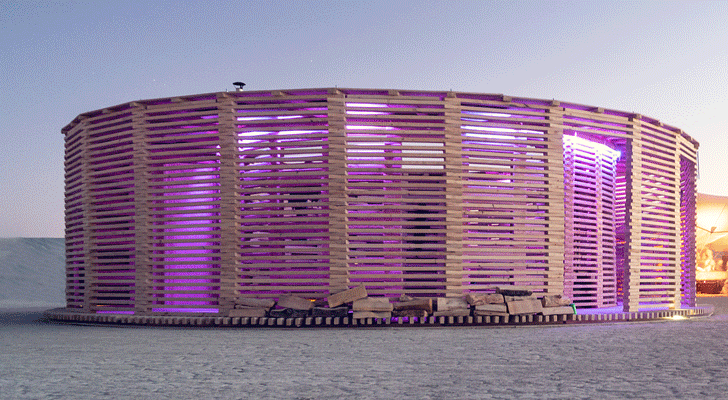 .
The 2019 edition of the Burning Man Event responds to the theme of 'Metamorphosis' - a radically inclusive and potentially accessible thematic that professes progressive change.
At this time every year, the annual Burning Man Festival rocks Nevada's Black Rock desert, to set up a temporary Black Rock City, as revellers constituting artists, architects, and participatory collectives gather with artistic and interactive installations on a platform to promote co-creation, community, self-expression, and art!
The festival that saw the light of day from Aug 25 to Sept.2, 2019 draws in from 'Steam of Life' and 'Andromeda Reimagined' – two of the innumerable interactive installations.
Steam of Life
JKMM Architects team up with 'Sauna on Fire' to present the 'Steam of Life' pavilion, celebrating Finland's tryst with saunas. While the Finnish take pride in their sauna culture, the spaces are symbolic of spiritual purging, renewal, and the collective social domain - a brilliant interpretation for this year's theme.
.
.
.
The timber pavilion exhibits all the physical elements of a Finnish sauna while responding to the hot desert environment – a low-lit circular passageway leading to a steam room that comprises of wooden benches and 'kiuas' stove, and a central atrium offering a shaded oasis for meditative relaxing. Minimal aesthetics, ambient natural light and shade punctuate the interiors. For practical purposes of transportation and erection, the design minimises the number of building components into two sizes of plywood and three lengths of timber slats.
Andromeda Reimagined
Alternately, John Marx collaborates with Playa Muses to design 'Andromeda Reimagined', an art piece that reinterprets and challenges the Andromeda myth - a tribute to strong, independent and heroic women, shifting the male hero narrative to that of female empowerment.
.
.
.
The five-sided pyramid with 10-feet wide CNC-cut patterned walls recalls the starry heavens while the exterior fins along the ridge lines mimic the swirling trajectories of the cosmos. The 26 ft tall, 15-feet dia structure lights up the night-time desert floor when illuminated from within, while it attracts attendees to its plush interior.
Anchored by four oval paintings that depict the reimagined narrative and an 8 ft high bronze sculpture at the centre, the structure calls for introspection and relates to the infinite potential of the galaxy.
Calling attention to self-expression, inclusion and a desire for crafting transformative experiences, the Burning Man installations of 2019 tell the story of change.