By Ar. Vinita Wagh
Photography: Javier de Paz; courtesy the architects
Read Time: 2 mins
.
In the Guadarrama mountains of Madrid, Architects Lys Villalba and Enrique Espinosa remodel The Young Old House with a three-scalar approach, lending a 'rur-urban' character to the quaint home.
The project is an overlay of interventions that redefine a new contemporary model for homes in rural-urban territories. The architecture initiates a dialogue with the landscape and establishes the importance of the 'rur-urban' inhabitants in generating new contexts. It outlines a design that progressively changes to adapt to this lifestyle, outfitted with recovered materials.
.
.
.
The landscape is a product of three country-city migrations, the last of which encapsulates a permanent transit. The new inhabitant is both rural and urban, living in between the countryside and the city, building new rural ecologies and partnerships that impact the landscape. Their coexistence with the traditional, rural communities maintains a balance in this changing territory.
plan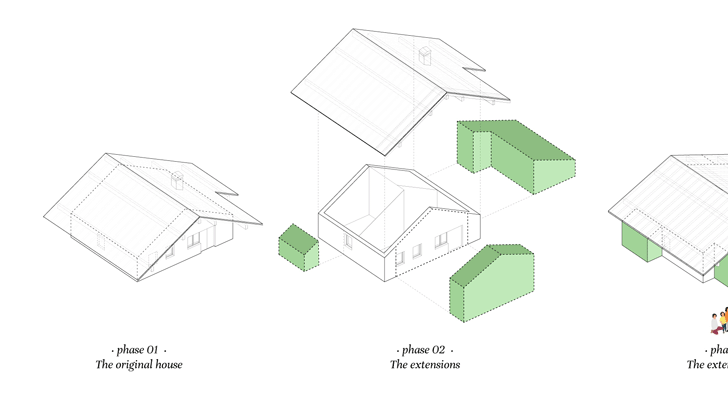 phases
The house, like its inhabitants, is semi-urban. Built in the seventy's as a summer house, its remodel comprises a strategy that allows for extension and thermal insulation in successive stages. Establishing a direct relationship with the surroundings, the house tends to comfort and energy consumption while reflecting a rural character.
.
.
.
The roof perimeter accommodates three extensions, clad in ceramic – the living, bedroom and boiler room. A pitched metal beam and tie-rod replaces the stone gable wall, opening the living area, while the porthole windows look onto the southern landscape. Gradually, the home will see additions in insulation layers and reuse of materials, albeit in a different pattern.
.
Reclaimed materials compose the interior furnishings. Giving a new life to old materials, the architects introduce metal as a new material. While old cut beams make the dining table, sleepers craft the continuous bench. Old, red, wooden window shutters make way for new doors; the granite from the woodshed forms the outdoor steps and the slate from the old roof clads the fronts.
.
.
The Young Old House highlights the connection between the objects, inhabitants and the landscape, and resets the dynamics between the old, the current and the new.
Architects: Enrique Espinosa & Lys Villalba
Technical Consultants: VIAN Estudio (Jorge López)
Collaborator: Maria Paola Marciano
Structural Engineers: Mecanismo
Location: Cercedilla, Madrid, Spain