By Ar. Vinita Wagh
Photography: Artemy Saranin
Read Time: 2 mins
.
Translating the notion of caged birds into abstract interiors, ALLARTSDESIGN crafts the Early Bird Café in Russia with symbolic charm…
Designer Artemy Saranin makes a fashionable statement with this 123 sq. m. establishment, transforming the previously operating fast food café into a plush destination that features a unique character and guarantees a memorable experience.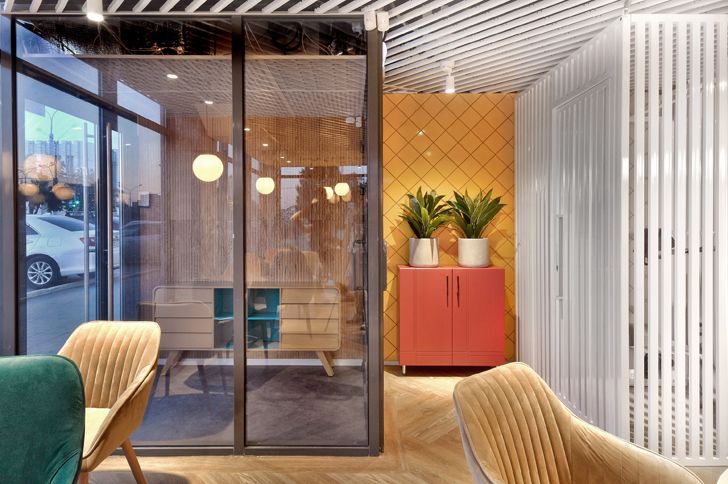 .
.
Spatially planned in a large rectangular hall framed by large stained-glass windows, the interiors highlight an open bar and a half-closed kitchen. The low ceiling intensifies the impact of the volume while the rhythmic, diagonal pattern in black and white breaks the monotony of the ceiling expanse and of the interior space. Cage-like enclosures wrap around unsightly columns, camouflaging them and animating them visually. Bright yellow partitions structure the space, dividng the volume into zones that share a common atmosphere.
.
.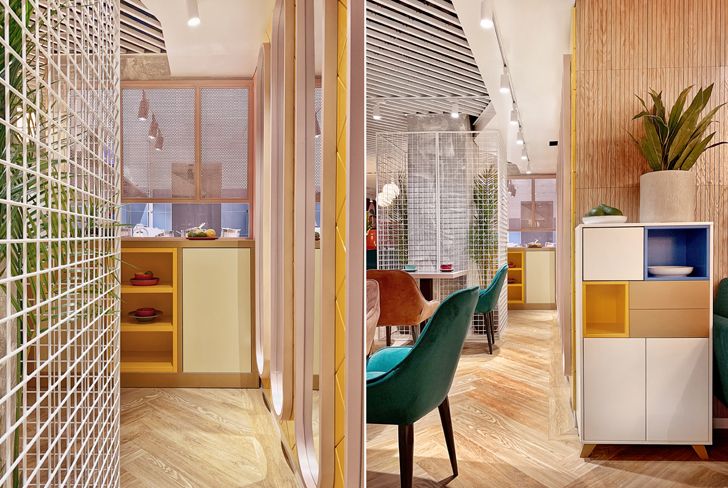 .
The dual-toned vinyl flooring and 'insta-back' (Instagram ready for photo ops) walls ground the space, lending a subtle backdrop to the full-bodied long sofas, deep-coloured chairs and bright designer dumbwaiters. Employing a material palette of primarily metal (that is almost imperceptible), the interiors also encompass a corrugated wall, a solid metal sheet bar counter and custom tables of stone, pink metal and MDF board with a black underframe. The design also highlights the varied claddings in the palette – the wooden and mdf tiles, and the intricately painted and detailed blue columns that share the same colour as the café logo.
.
.
Although designed as individual pieces, the elements harmonize the space, casting a light, pastel and delicate ambience across the hall, evocative of the early morning spirit. Combining the finest of flavour and flair, the Early Bird Café is quite a stylish affair.
Project Name: Early Birds
Location: Russian Federation, Perm, Russia