By Ar. Vinita Wagh
Photography: Nacása & Partners Inc.; courtesy the designer
Read Time: 2 mins
.
Encapsulating a Zen world within, Shenzhen's Yan Bookstore by Tomoko Ikegai presents a quiet yet powerful energy, promising a soul-searching experience amidst a sea of books.
Located in the MIXC Shenzhen Bay Commercial Complex, the 2475 sq. m. bookstore serves the ever-increasing population of the city. Recently, bookstores have become popular in China, beautifully and strikingly designed at the surface level. However, their architecture often fails to capture China's cultural contributions to the rest of the world. In the context of globalisation, this bookstore draws on China's originality and the city's forward-looking character to explore the mystical images of the East.
.
.
While 'quianyan' is the Chinese name, Yan stands for a traditional Chinese architectural element - the decorative outer edges of eves on buildings. Symbolising the East's extension into the broader world, Yan promotes a progressive cultural vision. Alternately, the phrase 'Think Borderless, Discover Yourself' reinforces the identity of the store as a space for endless self-discovery. Emulating the concept of 'Life in the East' from Zen Buddhism, that lies at the base of Chinese culture, the space allows visitors to engage in deep self-reflection, to create new realities.
.
.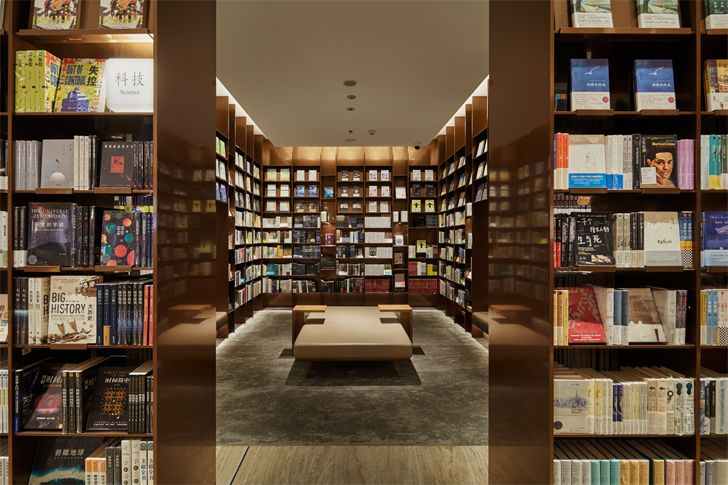 .
.
.
.
.
A rammed earth wall fashions the façade, evoking the underground geological strata, converting the interior into a cocoon that triggers deep emotional experiences as opposed to the frenzy of the city. The wall incorporates soils that vary in colour from amber to milky white – selected from natural earth tones and the same shades form the base colour palette in the interiors.
.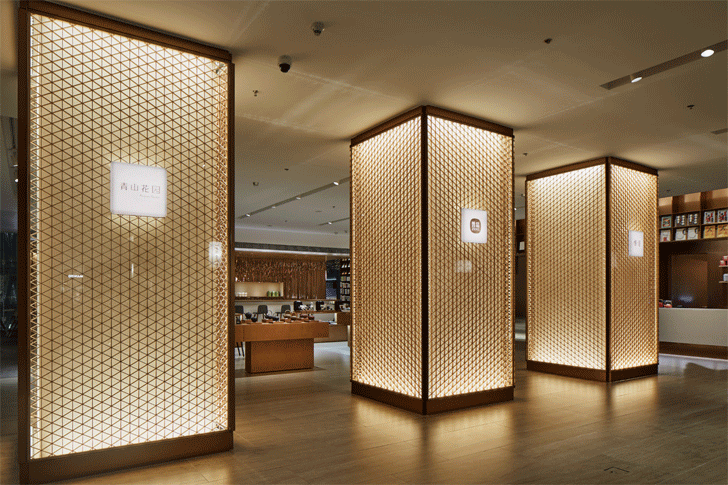 .
The floors, decked in a mock Italian travertine pattern, express the idea of accumulation through marble's visual representation of earth hardening over time. The minerals within the earth inspire the gold colour of the bookshelves, while the slender, delicate metal shelves express spirituality. The thin shelves, almost invisible, convey the impression of being immersed in a sea of books.
.
A fountain of wisdom, this bookstore mirrors the warm earth, lending inward experiences, in search of one's true self.
Name of project in English: Yan
Client: China Resources Land Limited
Principal Designer: Tomoko Ikegai
Total Floor Area: 2,475 sq. m.
Location: Shenzhen, China