By Ar. Vinita Wagh
Photography: Maarten Willemstein; courtesy the architect
Read Time: 2 mins
La Cerveceria, Amsterdam's latest bar establishment curates a complementary atmosphere that is touristic and local, both at once…
Designed by Studio Modijefsky, the bar takes cues from the informal, warm and cosy environment of the Spanish 'Cerveceria' – evening bars. Governed by a traditionally southern theme, the interiors infuse the spirit of Spain into the green Dutch city. Lending dynamism through the expert overlay of colour palettes, modern patterns and finishing, the bar recalls a traditional Mediterranean canteen, full of vibrancy and yet converging Spanish traditions and contemporary Dutch service.
.
Three main areas stand out – the dining area, front bar and the mezzanine. Hybrid seating options and geometric tables spread across the expanse of the graphic tiled floor, while the double-heighted dining adds verticality to the space. Raised on a pedestal, the front bar stands elegantly, reminiscent of old southern cafes, while the back bar is three-dimensional, almost apse-like. The mezzanine connects to the dining and kitchen through a seamless transition of materials, patterns and elements.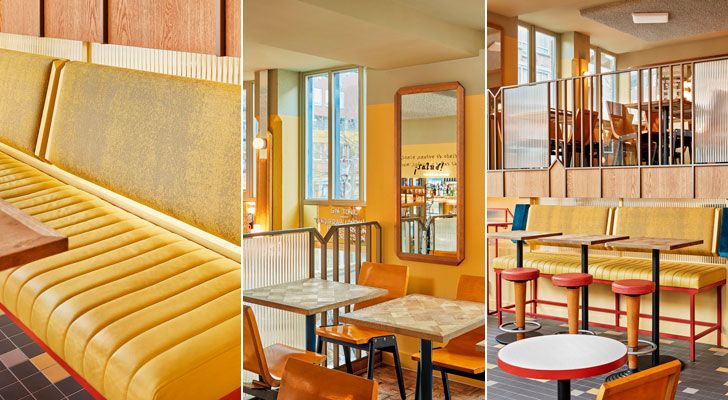 .
.
The design speaks volumes of the studio's quintessential design language, the excellent attention to detail. Yellow fabrics and tiles, warm leathers, brown steel and brass-bronze finishes bring in mellowness, while checkered patterns, contrasting green glazed tiles and red-blue textiles establish an eclectic character. The furniture - warm coloured oak wood, wooden profiles and funky corner benches compose a coherent picture. Even the tables follow the profiles of the 45-degree trimmed columns that structure the space!
.
.
Mirror finishes and railing elements impart fluidity in design through a play of transparencies and opacities. The flooring contrasts with the interiors, its black tiled surface directing the eye through the space, culminating into a wooden chessboard floor at the bar. Graphics and illustrations add another layer of detail, offering a glimpse into Spanish culture.
The bar draws out the essence of European culture - a little ornate and a whole lot vibrant, presenting an experience that stays long after one leaves.
Program: Pincho & beer bar
Assignment: Interior Design & Brand Identity Design
Client: De Drie Wijzen uit Oost
Design: Studio Modijefsky
Principal Designer: Esther Stam
Design Team: Esther Stam, Moene van Werven, Agnese Pellino, Christel Willers, Zahra Rajaei
Size: 139 sq. m. Interior/ 113 sq. m. Terrace
Location: Amsterdam, The Netherlands