By Team IAnD
Photography: Courtesy the architects
Read Time: 1 min 30 secs
.
London-based design practice SHH designs a new luxurious co-working space in Guangzhou, China prioritising the fast-growing mindset of collaborative and character-rich working environments.
Located on the top two floors of a 67-storey tower in the heart of Guangzhou's financial district, co-working space, Cohesion, with functional, compartmentalised offices seemed to literally cry out for an overhaul.
.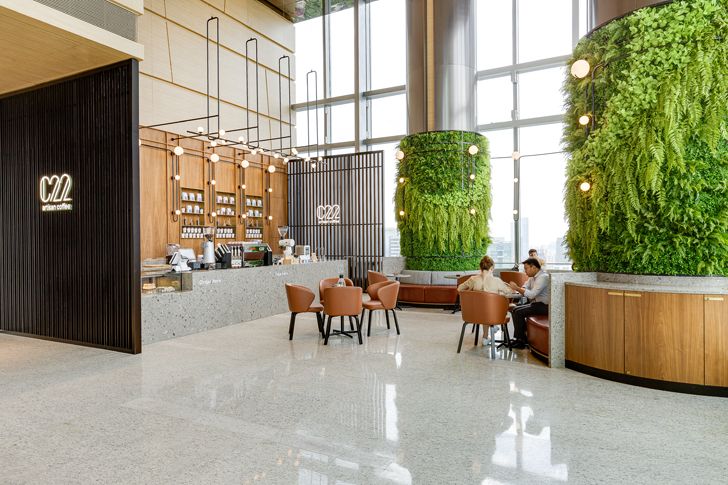 .
Approaching the space planning from the point of view of design significance and brand equity invested in smaller working groups, office camaraderie and optimum productivity in an emotionally nurturing environment, SHH conceptualises well-lit, social or communal spaces ideal for informal work, meetings and events towards the façade, whilst the office pool is positioned deeper into the plan. This facilitates more open spaces and a seamless connect with perforated partitions and plenty of indoor greenery creating a lively environment. Also, the arrangement aids an abundance of daylight to filter indoors, which accentuates the office ambience.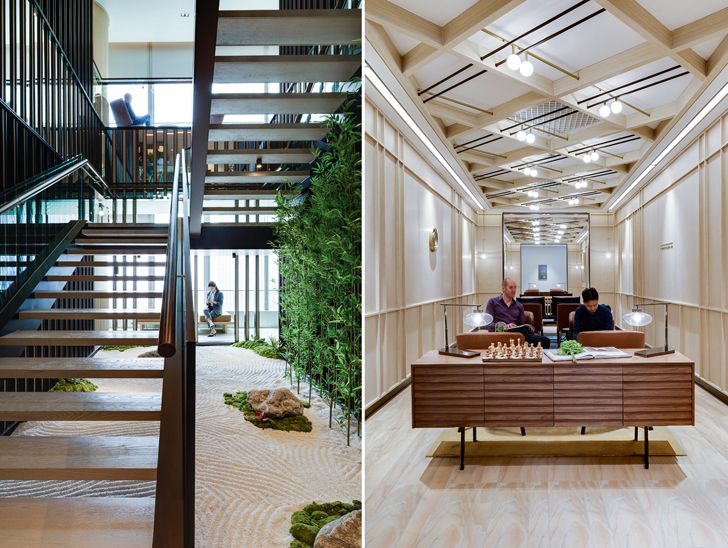 .
.
Sensing a connection between the two floors to be critical to the emotional connect being fostered, a new staircase is crafted that makes for a stronger flow of activity. So, we have level 66 hosting an ample, opulent space comprising main reception, lounge and bar area for informal meetings and working; formal boardroom and meeting rooms, dedicated printing areas, hot desk zones, as well as cellular offices accommodating from two to 10 people; and we have level 67 following a similar mix of spaces with the addition of a relaxation zone for massages and virtual reality experiences.
The subdued beige tonal nuances of the interior envelope, partially crafted ceiling designs, plenty of greenery and the select statement pieces of furniture seem to be in constant dialogue with the space and the user and aver to the detail-driven focus of the designers. Brandishing integrity, intelligence and flair, Cohesion fills the existing gap in the market for a change in thought and approach to work culture, facilitating businesses from outside to interact and trade with China in sync with a global mindset and methodology of operations.
Project Name: Cohesion co-working spaces
Location: Guangzhou, China