Compiled by Pari Syal
Photography: Fenfang Lu; courtesy Ippolito Fleitz Group
Read time: 2 mins
.
Ippolito Fleitz Group's interior design for the CIFI Sales Centre in Qingdao immerses visitors in a maritime lifestyle…
The new Sales Centre for real estate developer CIFI takes its immediate beachfront position as a starting point for a customer journey that immerses visitors in the relaxing world of a maritime lifestyle. Designed with a sustainable approach, the centre can be easily repurposed as a restaurant with minimal construction, once the sales phase is complete.
Starting from the façade that resembles a dynamic sculpture that twists with a dramatic gesture towards the sea, the project seems deeply immersed in a maritime lifestyle. One enters a multifaceted atmosphere of shimmering blue light, metallic silver, reflective surfaces and little white sailing boats. The well-staged customer journey begins here in the experience zone that is atmospherically dense, warm and intimately upbeat.
.
.
.
The design plays associatively on the leitmotif, evoking a range of different memory patterns and feelings in visitors. Triggers include photographs of beach life, little panels displaying sea poems, maritime video and audio recordings, as well as sculptural fishing nets and colourful shoals of glass fish that 'swim' above the heads of visitors. This experience zone is rounded off by a presentation zone on the first floor, which introduces visitors to the CIFI brand world and the particularities of the Qingdao project, appropriately reinforced by a large-scale architectural model.
.
.
.
.
.
The entire interior is distinguished by a generous, open and flowing character. With a subdued colour palette of black and white, grey and pale wood and stone hues, the lounge area and all other areas appear atmospheric yet restrained. Filters, furniture and accented artworks emphasise the proximity to the sea on all floors, accentuating the theme of a contemporary maritime lifestyle in different shades of blue and green. Embellishing elements sustain intrigue via low seating crafted from stylised hawsers, stylised sails on the ceiling, a sculptural staircase and slim vertical lines that define backdrops, screens, ceiling elements, juxtaposing verticality across the centre.
.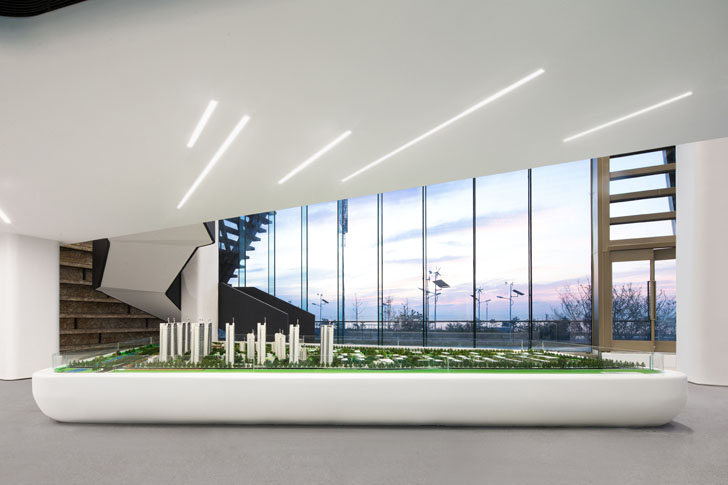 .
.
A cafeteria in the basement completes the visitor journey, exemplifying the arc – from clear, open and spacious areas to densely concentrated zones with haptic qualities that sparkle and function as the perfect showcase for high-quality ocean living.