By Savitha Hira
Photography: courtesy the architect
Read Time: 2 mins
.
Igor Sirotov Architects designs an urbane bachelor-pad using stone as the predominant material, monochrome as the hue and flexi-walls as the modern expression of the interiors…
This home in Kiev, Ukraine sports a very striking personality, as it stands out for its use of steel grey and white across all furnishings and walls. Well-defined and organised around an open spatial plan, the living-dining cum open kitchen make one half of the apartment, while the bedroom with its en-suite bathroom makes for the other half.
.
.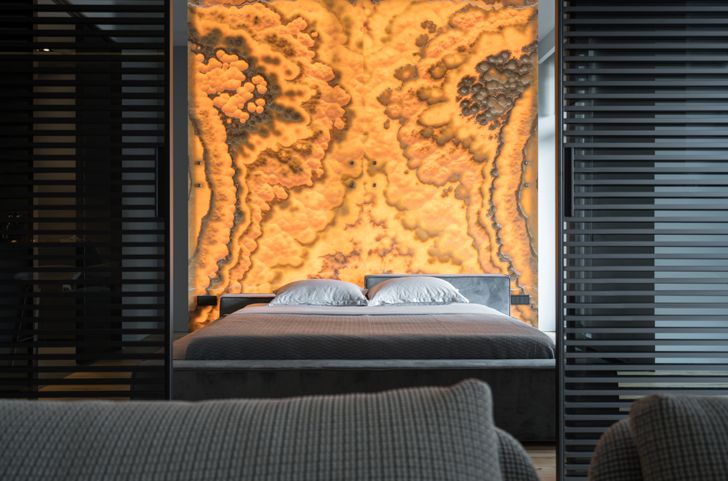 .
Cleverly demarcated using a modular system of flexi walls made of slim wooden slats, the bedroom area can be easily cordoned off from the public areas. But when open, the entire space creates a chic scenario with the stone-clad bed backdrop highlighting the space akin to a work of art. This finds a mirror in the only other large wall expanse – that of the living room, which is textured to add to the subtle intrigue of the otherwise minimalist design vocabulary.
.
.
.
One enters the apartment from the back, arriving into a fairly wide lobby that is visually doubled using a floor-to-ceiling mirror. A narrow, bare vestibular passage leads through to the living room, gradually revealing the home and its tranquil ambience. Two large windows – one each in both the areas, establish the outdoor connect in this one-side open apartment. The surprise element is retained well as one realises that both, the living room and the bedroom have perfunctory balconies that enhance the outdoor connect. Consequently, ample daylighting is juxtaposed with mood lighting for the evening hours using subtle, elegant fixtures.
.
.
.
Efficiency is the epitome as one observes a fully equipped functional kitchen, a well-designed bathroom and a wardrobe tucked behind the bed, not to forget the four-seater dining table. Yet, the apartment is maintained clutter-free and exudes the warmth of a privy nook – tailored to the needs of single living. As the architect concludes, "My motto is 'functionalism and space'. The interior should be ergonomic, full of light and air. Nothing extra. I prefer restrained minimalism and refined achromatic colour combinations - asceticism of form and colour".
.
Typology: Residential interior design
Design: Igor Sirotov Architects
Principal architect/designer: Igor Sirotov