By Ar. Vinita Wagh
Photography: Maarten Willemstein; courtesy the designers
Read Time: 2 mins
.
In the heart of Cologne, Studio Modijefsky keeps intact a sliver of history with their design for a bakery-turned-restaurant 'Otto's Burger', recapturing quaint charm in a modern setting.
Situated on an L-shaped corner plot, the two new wings of the outfit replace the bakery shop and its store, a kitchen now sitting at their intersection at the back of house - the spaces intriguingly unified by a straightforward graphic language.
.
.
This 330 sq.m. establishment leverages the former bakery's functional spatial divisions. The design takes inspiration from the tile patterns that framed the interior prior to renovation – a mix of old and new tiles, of different sizes - a checkerboard of white, blue and black. This variety informs the new material palette.
.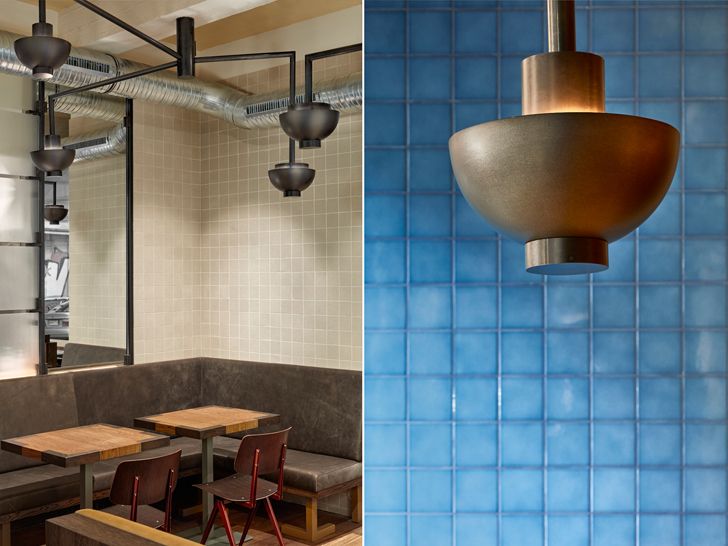 .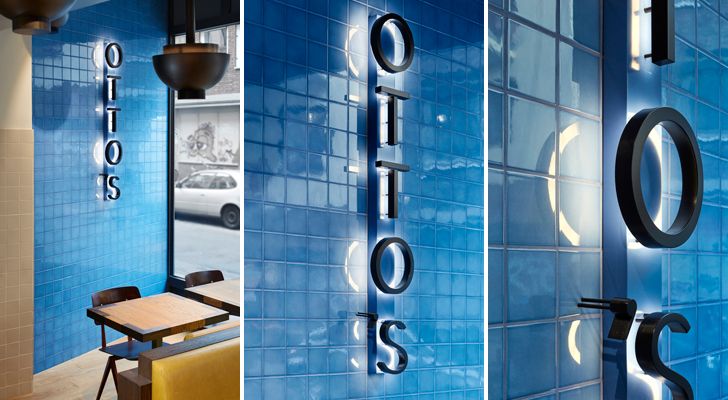 .
The sequence of spaces coupled with layered materials and elements lend a defining character. Wood adds warmth, as it seamlessly runs along the floor and walls, while tiles laid in the original pattern reveal traces of a past life. Material transitions structure the space, visually separating zones and expressing strong accent points that guide the decor. Informality grounds the space though a composition of square and round profiles, apparent through furniture, special elements and the logo.
.
.
.
.
The bar opens onto a patio - previously an open-air space, recalling the memory of the outdoors through wooden furniture, green walls, tiled floor and plants, carefully balanced with ambient light. The kitchen marks a change in atmosphere, its materials softening the space, the layout echoing a sense of home and colour tones reminiscent of bread-making. The staircase leads to the basement, turf of the former baking oven.
.
.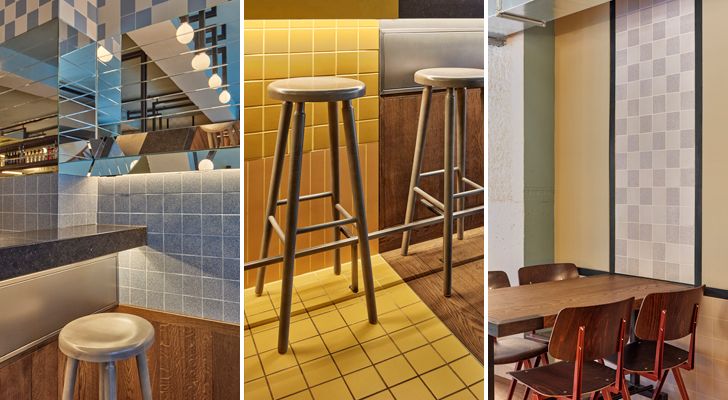 .
Known for reinventing spaces that respect the context, the studio establishes a detail-oriented narrative that cohesively extends a welcoming vibe – speckled tiles, terrazzo flooring, yellow concrete, and horizontal mirror slabs. The studio evokes the past through hanging lights that revive the memory of bullion scales, shelves that call to mind scale weights and frames that resemble bakery tray racks – specifics that add to its historic appeal.
Program: Burger Restaurant and Bar
Assignment: Interior Design and Graphic Design
Design Firm: Studio Modijefsky
Design Team: Esther Stam, Zahra Rajaei, Moene van Werven, Sophie van Heijningen, Karen Man Lai Cheng
Location: Cologne, Germany