Visualisations: Plompmozes
Drawings: UNStudio
Read Time: 3 mins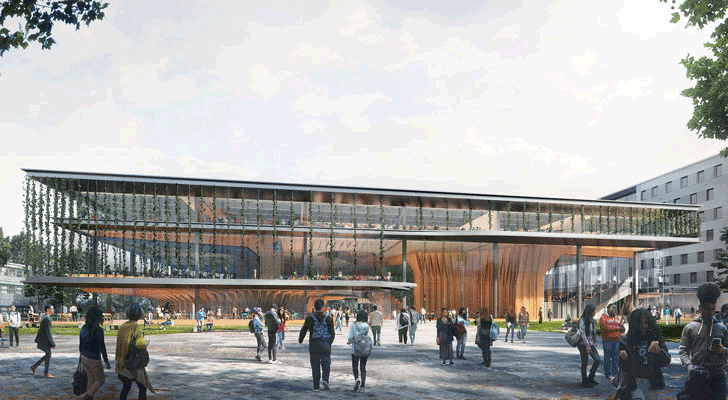 .
UNStudio in collaboration with Arup and BBN creates a futuristic collaborative design that takes education beyond conventional classroom typology…
The new inter-faculty building Echo for TU Delft, is designed to meet the leading Dutch university's need for versatile extra teaching space with an energy-generating building in which adaptability and the well being of the user are central.
.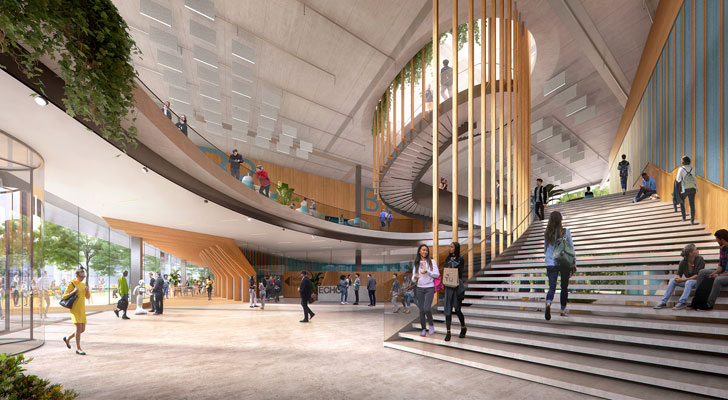 .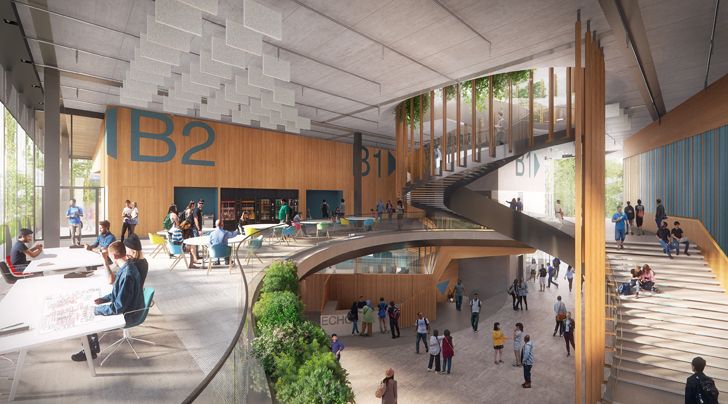 .
Currently under construction and due for completion in Dec 2021, Echo will offer space for around 1,700 students by way of lecture rooms, classrooms, and a variety of study spaces ranging from medium-sized to large, most with a flexible layout. The largest lecture room, which can accommodate 700 people, can be divided into three separate rooms. In addition, there will also be a 'case-study' room that will be particularly suitable for motivational teaching/ interaction between lecturers and students.
Transcending current learning environments, the design supports the contemporary culture of 'Everything Anywhere', where the in-between space is also of great importance. Consequently, space will also be designated for unstructured time: a variety of platforms for reflection, inspiration, and communication.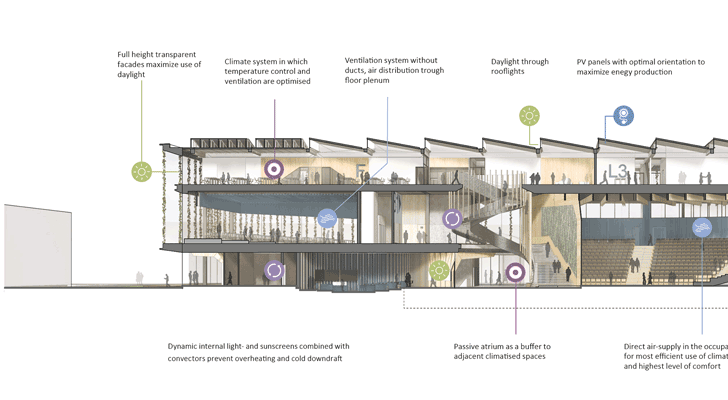 Systems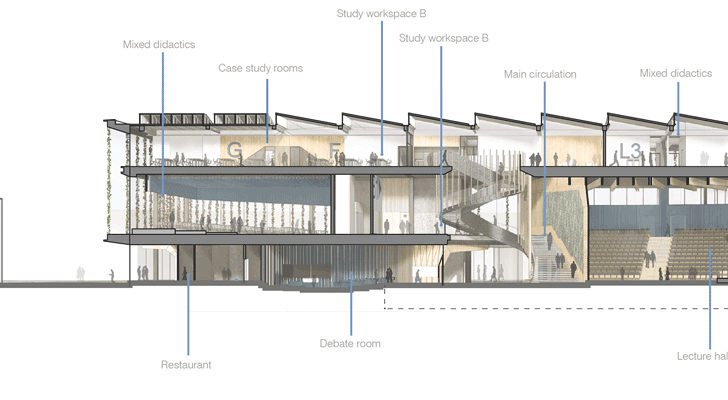 Organisation
The plan includes largely column-free spaces. Two auditoria define the space in a lively open square dominated by a centrally positioned 'grand stair' that facilitates and promotes physical movement through the building. A future-proof campus is an active campus. Therefore, Echo not only connects with the surrounding public space but also defines it. The adjacent square continues through the transparent ground floor of the building and connects with the street on the other side, turning the ground floor into a covered public square. Two sculptural volumes (the large 700-person lecture hall and the debate space), direct the flow of people across this covered square, their diagonal orientation simultaneously defining two large transparent corners, one housing a restaurant with terrace, and the other, a large study landscape.
Axonometric-ground floor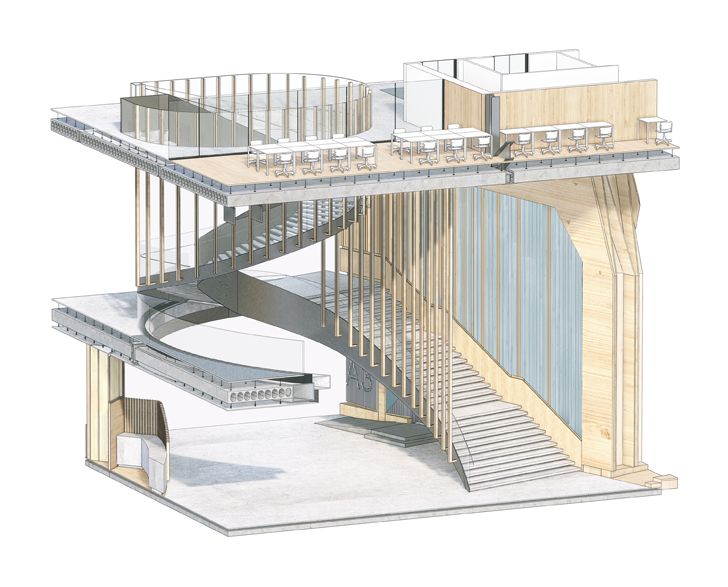 Main stairs- fragment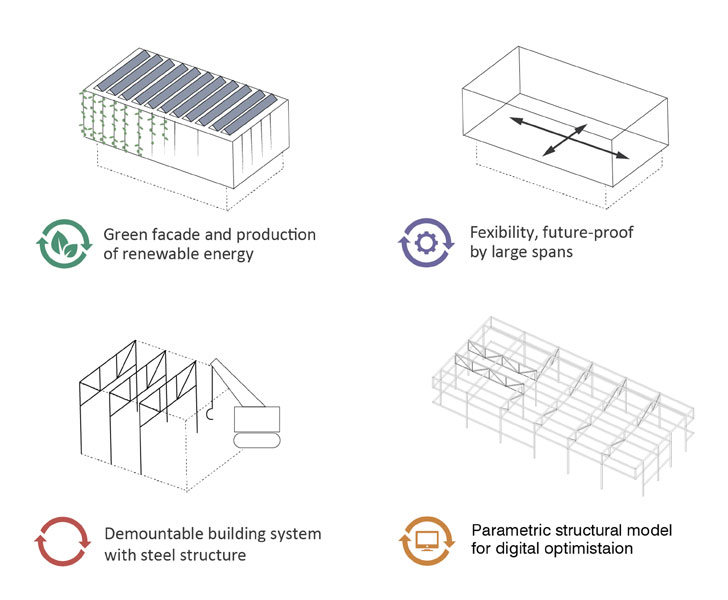 Circular concept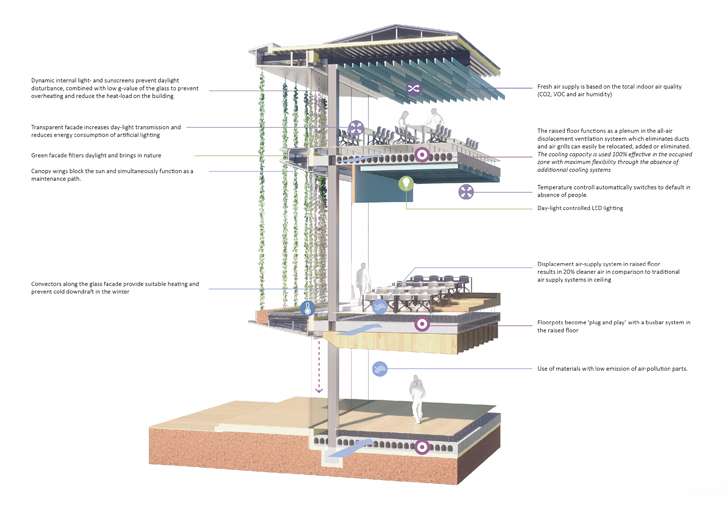 Climate concept
Attractors program diagram
Designed as a user-friendly building according to principles of circularity, a great deal of attention is paid to the environmental impact of the materials used in the construction. Solar panels, insulation, and heat and cold storage will be used in this new energy-generating building. The flexible concept of the covered square, coupled with an open and transparent skin, offers the building maximum opportunities to manifest itself as a public connector and make the invisible world of learning a visible and engaging experience.
Design Team: Ben van Berkel, Arjan Dingsté, Marianthi Tatari, Jaap-Willem Kleijwegt, Ariane Stracke, And Piotr Kluszczynski, Thys Schreij, Mitchel Verkuijlen, Bogdan Chipara, Krishna Duddumpudi, Fabio Negozio, Ryan Henriksen, Shangzi Tu, Xinyu Wang, Marian Mihaescu
Advisors:

Arup:

Structural Engineer, MEP and Building Physics
BBN:

Building Cost Consultant
Building surface: 8844 sq. m. GFA
Building volume: ca. 53 000 cubic m.
Building site: ca. 4 000 sq. m.
Status: Under construction