Photography: Denice Hough; courtesy v2com
Read Time: 3 mins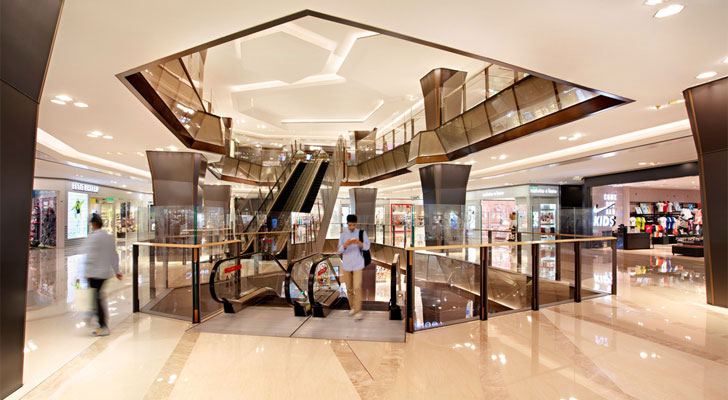 .
Hong Kong-based architectural firm, Elena Galli Giallini Ltd. (EGGL) unveils the rejuvenated North building of the Grand Gateway 66 retail complex (GG66), in Shanghai…
The renovation project encompasses the entire retail complex, including the transformation of the 20-year old North Building, completed in 2019, and an overhaul of the South building, expected to be finalised later this year. Both buildings present vast contrasts in spatial and visual characteristics and EGGL has set out to provide them with a brand-new image, both architecturally and functionally.
A "Yin–Yang composition of harmony" reinforces a dynamic integration of opposite values, forced artificial homogeneity is shunned for a design that integrates two distinct parts with differing characteristics working in synergy as a singular new complex. A sharp consistency in the colour palette and selection of materials further emphasises the harmony, while the use of unconventional finishes and textures, with calibrated contrasts, energise the scheme and generate access points. Specially designed motifs and the creative use of recurring geometric shapes create visual focal points that serve as common denominators within the overall scheme.
.
.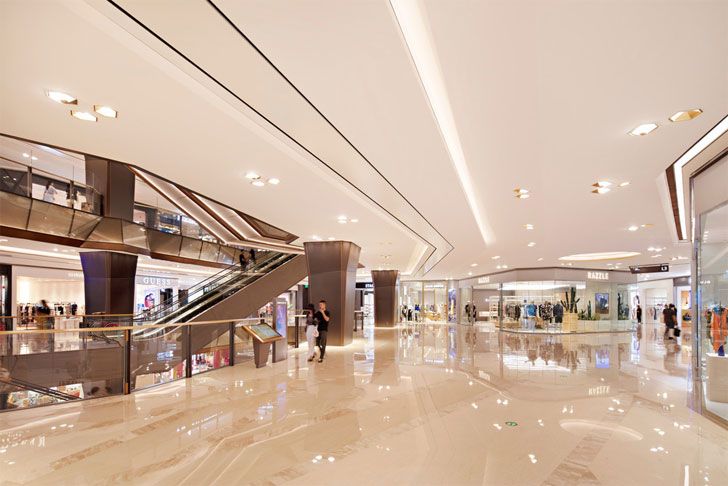 .
.
The completely new architectural and interior design focusses on the qualitative aspects of space identity and aesthetic appeal. The infusion of primary design elements defines the character of the atrium in the North Building, including spandrels with backlit glass panels, balustrades highlighted by metal and glass, and unconventionally shaped columns. An abundance of open public spaces transforms the lobbies on each level of the building into internal social plazas, each with its visually distinctive atmosphere, and each centred on a core void incorporating the vertical circulation of backlit escalators.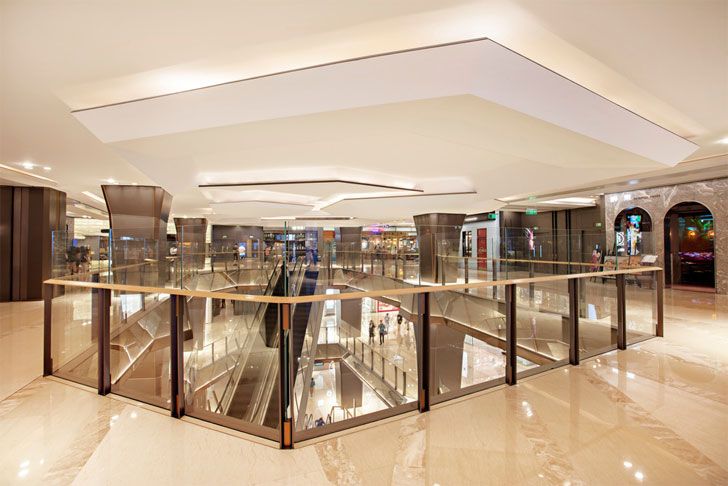 .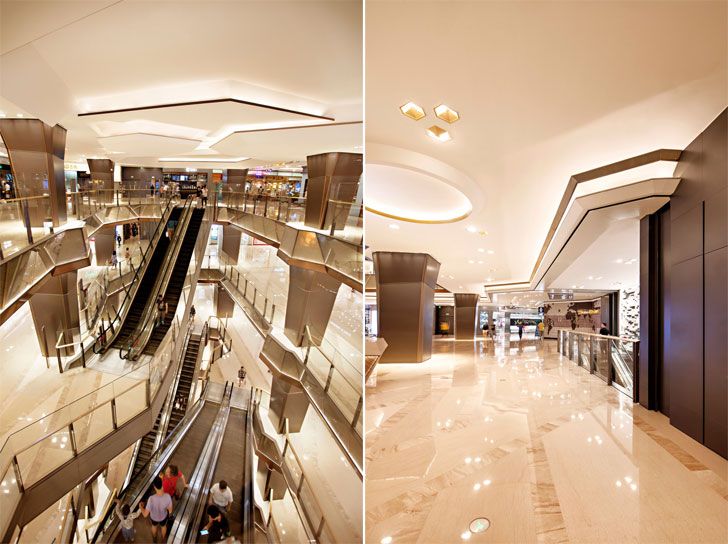 .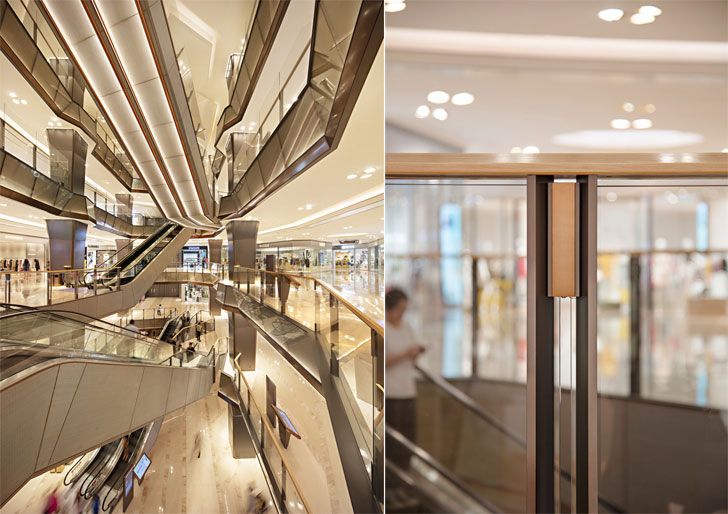 .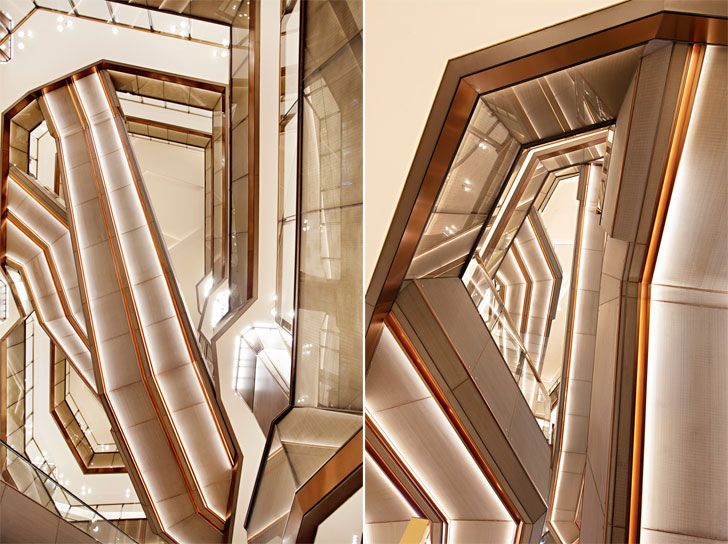 .
.
.
Lighting design is a critical part of the process. The ceiling design infuses vibrancy into the scheme through the integration of key features and organic shapes that provide dynamic illumination. Ceiling folds and looping coves distribute suffuse light to enliven the building's architectural features. Meanwhile, downlights serve as accent points, and escalators further brighten the ambiance with their backlit wire mesh panels. On the sixth floor, ceiling breaks transform the escalator void into an eye-catching focus of folding planes and triangulated shapes. Hexagonal geometries interconnect to create sculptural features, with suffused light filtering along the edges.
EGGL's selection of materials and choice of a soft colour palette of beige and off-white hues for the ceilings and floors further compensates for the lack of natural light, while the bolder, darker hues of the metal claddings of columns and walls provide dynamic contrasts. Bronze and copper tones accentuate details and add warmth to the overall scheme.
An embodiment of 'Haipai' culture, where core Chinese and Western values collide to make Shanghai one of the most cosmopolitan cities in the world, Xijiahui is in the midst of a contemporary revitalization that is seeing new developments and renovations. The rejuvenation of the GG66 retail complex, which originally opened in 1999, forms part of that trend.
Project Name: Grand Gateway 66 – North Building
Client: Hang Lung Properties
Program: Shopping Mall (6 levels above, 3 levels below)
Interior Architecture, Retail Planning, Interior Design: ELENA GALLI GIALLINI LTD (Design Architect & Interior Designer)
Design Principal: Elena Galli Giallini
Grand Gateway 66 Mixed Use – Total GFA: 315,118 sq. m.
Retail Complex GFA: 185,720 sq. m.
Grand Gateway 66 - North Building GFA: 40, 451 sq. m.
Location: Xuhui District, Shanghai