Compiled by Team IAnD
Photography: Courtesy the designer
Read Time: 2 mins
.
Champalimaud Design reinvigorates a Florida vacation home that was crying out to harmonise the colour palette that worked against itself.
Creating an elevated and inviting retreat, Champalimaud Design focusses on the priceless objet and character-filled architectural elements that are the highlights of the Naples Residence property. Infusing into the renovation a unified and singular narrative, they also design a secondary home that feels just as formal and refined as the main residence; yet is functional for the homeowners' coastal lifestyle.
.
.
.
With Mediterranean-inspired architecture, the oceanside Florida vacation home features uninterrupted views overlooking the Gulf of Mexico. Upon arrival, one is greeted by an abundant overflow of bougainvillea that cover the house and its courtyard, creating a romantic and charming welcome.
The entire house is wrapped in large tinted arched windows framed in imported Burmese teak. Interestingly, the windows in the home are tinted because legally beach front houses in Naples cannot emit too much exterior light as it can be distracting to the turtles - who are guided by moonlight. Consequently, with the tint restricting light ingress despite the window size, interior lighting is enhanced and offset by a palette that amplifies the available light but retains the graciousness of the space.
.
.
.
High teak ceilings coupled with original teak flooring make a warm and rich envelope for the interior furnishings - most of which are custom-designed by Champalimaud Design or sourced at reputable galleries. Notably, all the teak is imported from Burma and all the ironmongery, railings and lanterns are handmade in Colombia. Each room is planned to encourage an ease of movement throughout the home allowing for smooth and fluid transitions between spaces. Features like special shelving and custom cases are designed to give the homeowner's collected artefacts a sense of importance in the rooms where they are staged. A highlight is the dining table with its resin top in colours inspired by the sunset on the ocean.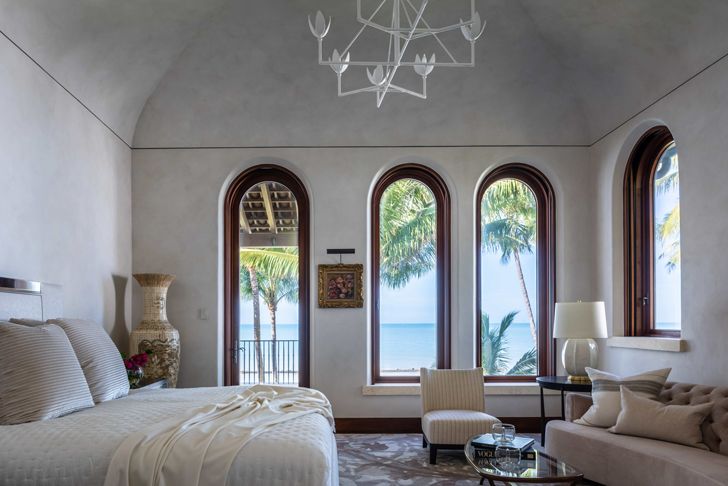 .
.
The design incorporates nature throughout - creating an indoor, outdoor living scheme. It effectively brings out the soul of the project through careful observation and an empathetic
understanding of the relationship between the space, its cultural context and those who use it.