Photography: Alex Filz; courtesy noa* network of architecture
Read Time: 2 mins
Snuggled in South Tyrol's idyllic landscape, the Apfelhotel Torgglerhof creates a sensory oasis, its modern sensibilities and vintage charm celebrating the hotel's historic roots.
Designed by noa* 'network of architecture', the family-owned farm-hotel celebrates apple cultivation - a cultural practice central to the region. Translating to the 'Applehotel', the retreat is at once an outdoor destination and an intimate getaway!
The establishment, after multiple expansions, now comprises of an apple-shaped wellness facility, new suites, and the extended restaurant, apart from the existing chalet, villa, barn rooms, vineyards, garden, and apple orchards.
.
.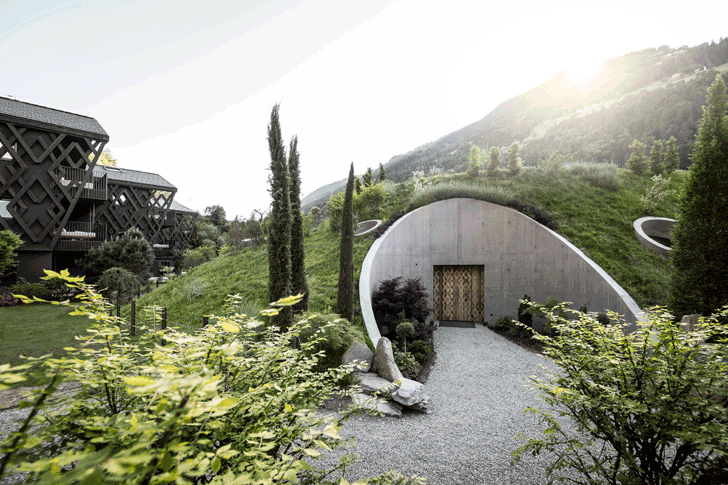 .
Dubbed the 'green heart' of the farmyard, the wellness facility is almost imperceptible - a large mound of earth and grass. Forgoing a northside façade, its architecture blends fully into the green, sloping landscape with a curved, semi-exposed concrete shell forming the entrance.
.
Alternately, the southside façade of glass and steel disappears under the rooftop greenery, its steel canopy echoing the holding structures used in apple cultivation. The pool stretches into the open, the water forming an infinity edge. Above, the Finnish sauna, modelled with horizontally curved wooden slats, looks towards the apple fields while the steam bath expresses a cave-like character.
The newly built suites preserve the character of the quintessential farmyard ensemble, conforming to scale but complementing the rural surrounds. Three independent buildings unify tradition with modern aesthetics.
An ode to the barn house, the structure's outer shell features a darker palette, marked by a rhombus pattern reminiscent of classic wooden struts. The ground floor suites blend into the topography while the second-floor ones accommodate a sleeping gallery within the attic gables.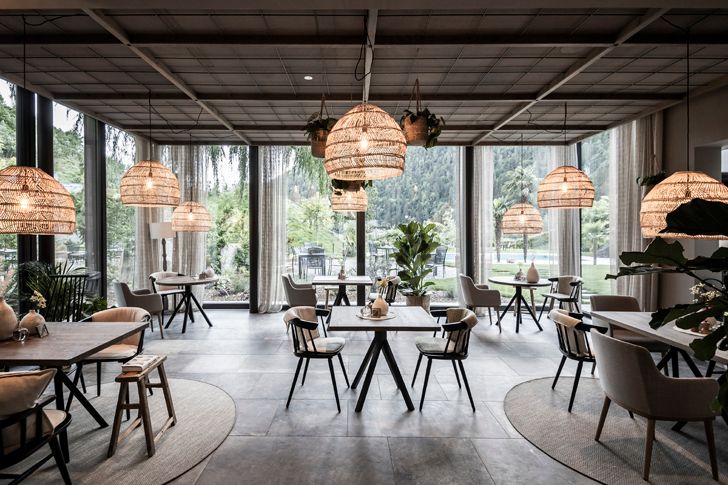 .
.
Beyond the old barn, lies the restaurant. Its design centres around the principle of three rooms of differing heights, recalling a modern winter garden. Canopies – both closed-heated and open-shaded, cluster around a piazza, unfolding the restaurant to the environs.
.
.
.
.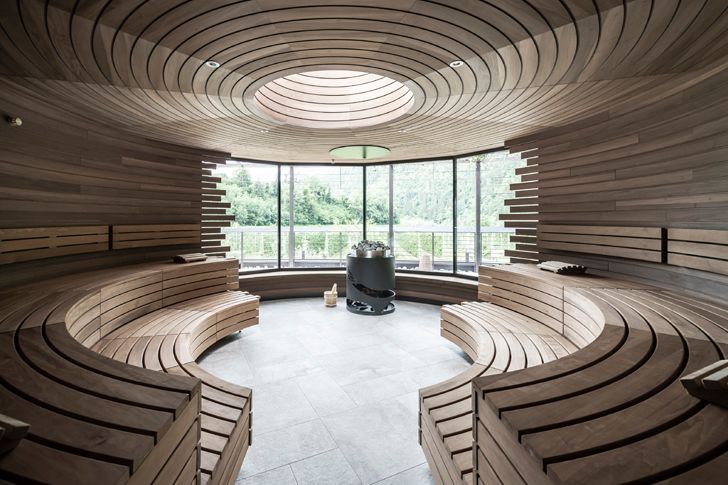 .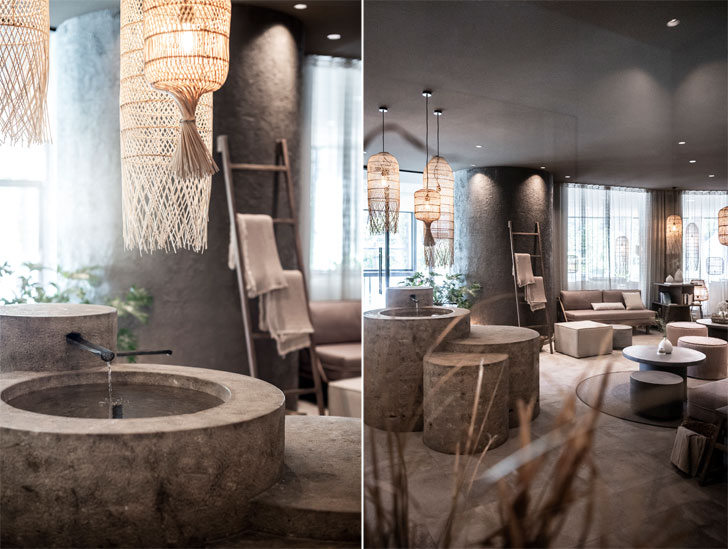 .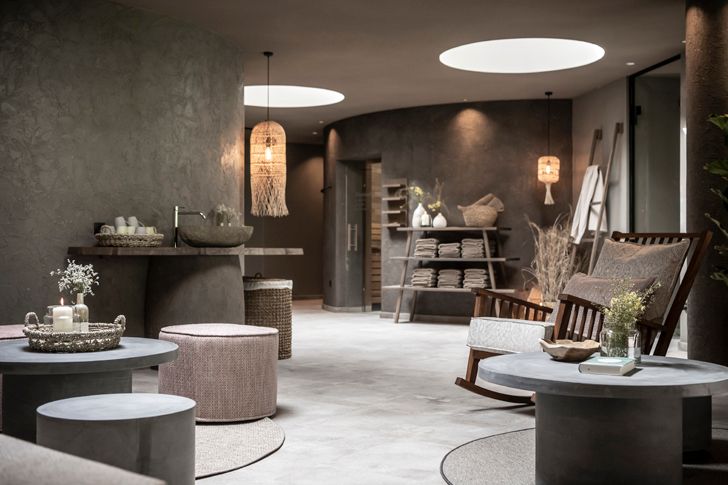 .
Throughout, the décor highlights nature and the region's contextual character, meticulous details prioritising both - aesthetics, and function. Earthy materials authenticate the spaces – natural stone, old wood, metamorphic rock, coarse natural fibres, plaster, and warm grey tiles. Establishing an identity that harmonises with nature and binds its history, the Apfelhotel offers a rustic escapade.
Project name: Apfelhotel Torgglerhof
Typology: Hotel, wellness
Client: Apfelhotel Torgglerhof, Family Pichler
Architecture: noa* network of architecture
Interior Design: noa* network of architecture
Program: Intervention Construction of new wellness area & new guest rooms. Restaurant extension
Volume: 12.000 cubic metres
Surface area: 2.890 sq. m.
Location: Saltaus, St. Martin im Passeier (Italy)