Six months after the Pixel Box Cinema, Wuhan, China gets its next futuristic big-wig in terms of Hanjie Wanda Square - a luxury shopping plaza by UN Studio…
Iconic architecture is becoming a norm; whether due to a genuine creative freedom that is being enjoyed by architects with computer-aided software or because one simply wants to outdo the other. Wuhan, in China recently saw a masterpiece of architecture and technology with the Pixel Box Cinema by architects One-Plus Partnership.
The city now opens doors to a single-stop that houses international brand stores, world-class boutiques, catering outlets and cinemas. Designed by UN Studio, the approach combines both, contemporary and traditional design elements in one concept.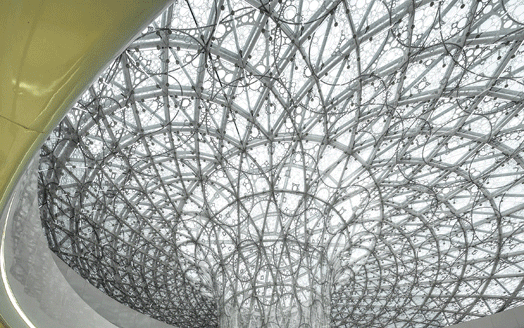 .
The concept of synergy of flows is key to all design components; the fluid articulation of the building envelope, the programming of the dynamic façade lighting and its content design and the interior pattern language, which guides customers from the central atria to the upper levels and throughout the building via a matrix of corridors.
.
The interior concept is developed around the North and South atria, creating two different, yet integrated environments. Variations in geometry, materials and details define these differing characters.
.
The North atrium is characterized by warm golden and bronze materials reflecting a cultural, traditional identity.
.
In the South atrium silver and grey nuances with reflective textures reflect the city identity and its urban rhythm. Both atria are crowned by skylights with a funnel structure, which connects the roof to the ground floor, in addition to integrating the panorama lifts.
.
The façade design focuses on achieving a dynamic effect reflecting the handcrafted combination of two materials: polished stainless steel and patterned glass. These two materials are crafted into nine differently shaped, but standardized spheres. Their specific positions in relation to each other recreate the effect of movement and reflection in water, or the sensuous folds of silk fabric.