Photography: Courtesy the architects
.
Cat Hill Barn is the complete conservation and refurbishment project that sensitises the user to a heritage habitat without compromising on his lifestyle aspirations...
Building new is exciting. Rebuilding in the essence of the old is exciting and challenging. Understanding the ethos of an agricultural storage facility from the late 1700's in a Grade II listed barn in South Yorkshire, Snook Architects and the owners, Mrs.
& Mr. Wills, after a critical appraisal decided to retain the sense of the barn in both, use of volumetric space and utilitarian finish, while they refurbished the interiors for a contemporary lifestyle.
Badly neglected and at the point of complete ruin, the roof could have literally collapsed in at any moment. The trusses that had been previously installed were both, too weak and too short for the cross-sectional span. To exacerbate matters, the breeze block corbels that supported the trusses were also headed for a complete breakdown. Walls were seriously bowed out and it was immediately apparent that the barn could crumble like a pack of cards at any moment.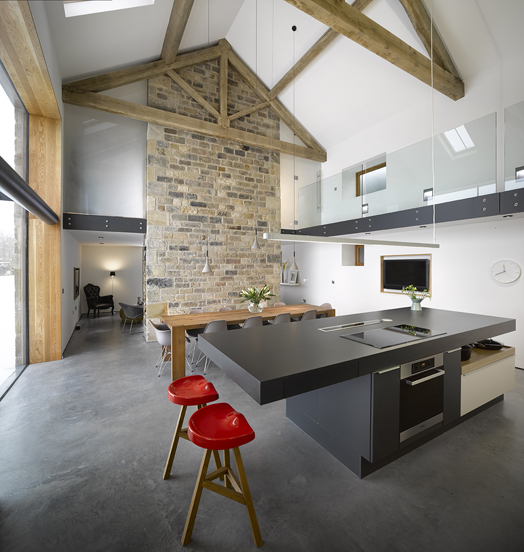 .
.
The architects started off by securing the existing structure of the barn with a new internal steel framework and rebuilding the collapsing roof. Construction of the super structure was relatively straight forward. The roof and one of the main perimeter walls were carefully taken down; a new steel supporting frame was inserted inside the building and walls and the roof were then re built around the steel frame using the existing material.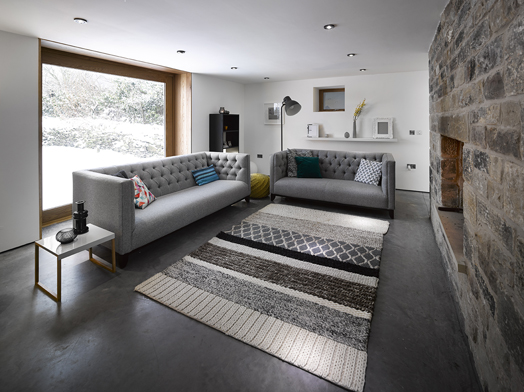 .
.
.
In an attempt to retain much of its natural working aesthetic, they decided to use a stripped down utilitarian material palette. Simultaneously, the interiors were to sport the drama created by focusing on the tension and release formed between constricted single-height spaces and the double-height volume of the barn.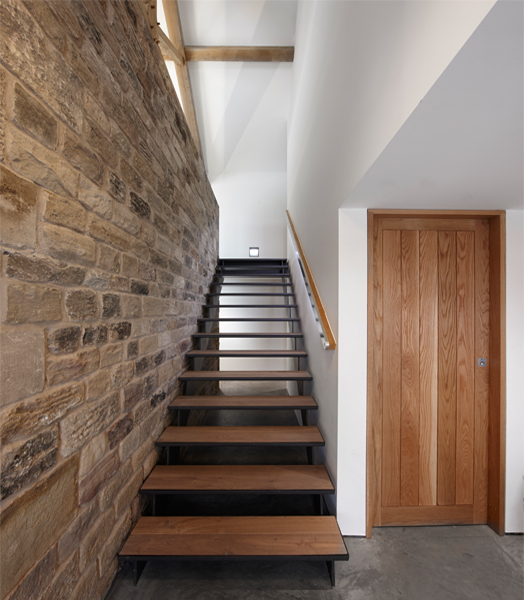 .
.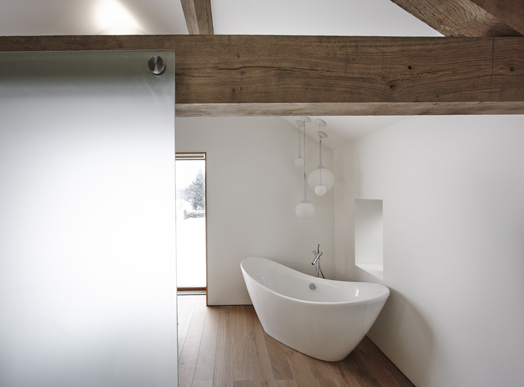 .
Using wood and juxtaposing rough and smooth wall finishes, an earthy connect was established with the wooden trusses, window jamb linings and flooring. Period furniture and subdued furnishings completed the old-world charm. In contrast, frosted and plain glass ushered in the avant-garde feel that offset the state-of-the-art appliances and amenities. The construction programme on the project at tender was nine months and it was delivered in just short of ten.