Renders: Courtesy the architects
The highlight of the proposed White Tree project at Montpellier, France is its free-choice architecture, which the architects and developers see as a definitive upcoming trend…
In the second edition of the 'Architectural Folie' closed competition, held in Montpellier, France, to enrich its 21st century architectural heritage, Sou Fujimoto Architects, Nicolas Laisné Associates and Manal Rachdi OXO architects won the contest to build
Arbre Blanc
(White Tree). This structure follows Fujimoto's ideology of architecture reflecting forms found in nature combined with the city's love for outdoor living. Strongly inspired by the tree motif, this 17-storey 10,000 sq. m. mixed-use tower sprouts balconies instead of branches or leaves.
Located at the junction between the historic city centre and the newly developed Port Marianne and Odysseum districts of Montpellier, the tower is designed to look as if has grown out of the ground and is proposed to be organically sculpted over time by water or wind.
Due to its curved structure reminiscent of a tree trunk, panoramic views are offered without obstructing its neighbours. Interestingly, the unique layout gives rise to different floor plans, which in turn translates into a one-of-a-kind apartment – allowing future residents to select orientations that are best suited to their lifestyles.
Perspective zoom - Rooftop
Just like a tree, the tower will feed off its locally available natural resources to reduce its energy consumption, while offering smart solutions for sustainable living.
Moving to the interiors, dense yet permeable peripheries blur the lines between rooms and balconies allowing for an ease of movement; albeit, with a focus on gravitating toward the outdoors.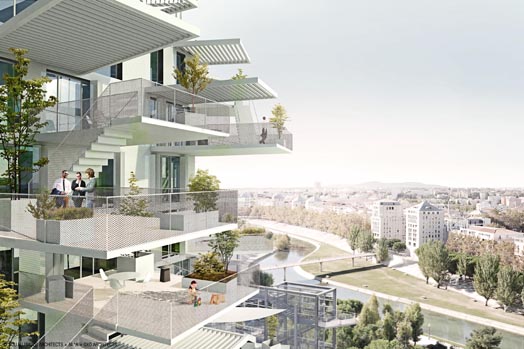 Designed to accommodate apartments, a restaurant, an art gallery, offices, a bar with a panoramic view and a common area, this high-rise, imbibed with Mediterranean character and Japanese culture alike, is set to dominate the Montpellier skyline allowing its residents and tourists to soak in the expansive mountain, ocean and river views — making it a prized destination.