Photography: Luca Morandini; courtesy the architects
Exterior of
Spa at
Casale del
Principe
The new spa in the ancient farmhouse at 'Casale del Principe', Monreale, a characteristic town in Jato valley, is a unique architectural exercise that references and emerges from the culture, tradition and Sicilian environment…
Famous for its cathedral, a millennial solemn monument that combines different styles with references to Northern Europe architecture and Arab art, the old-world charm of the characteristic Sicilian town has been very elegantly referenced in the spa and wellness centre that opened its doors to public on Valentine's Day 2014.
Spa Entrance
Incorporating ancient building techniques and a powerful aesthetic vocabulary into contemporary needs and wants, the architectural character has been restored and conserved on one hand; while chic avant-garde themed suites and wellness spaces reflect the peculiarities of a place so steeped in history and tradition without falling into mere trivialization of the Sicilian style.
Theme Room -Storia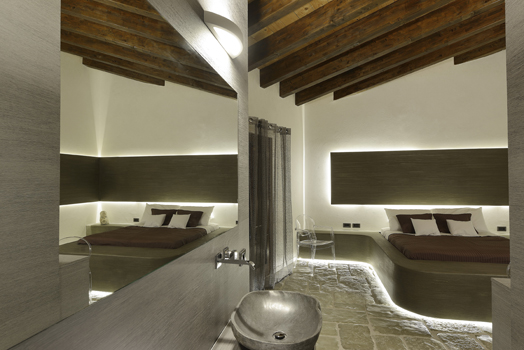 Theme Room - Pietra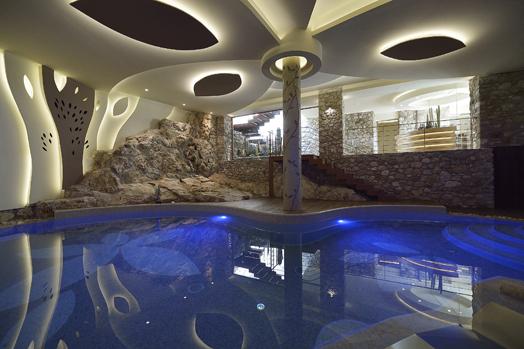 Pool Area
Italian architectural firm Alberto Apostoli, responsible for the transformation of the farmhouse, weaves a strong narrative inside and outside. The façade is characterized by two large windowed arches and a rose window made according to ancient local techniques. Terraces on different levels and nature trails for the discovery of decorative and medicinal plants, spices, fruits etc, lead the way from lush exteriors to equally pulsating interiors – bifurcated into three levels – themed suites on the upper floor, spa and wellness centre on the ground level and a swimming pool, carved underground by digging into the bare rock; and connected by a huge painted-steel staircase that offers panoramic views of the farmhouse.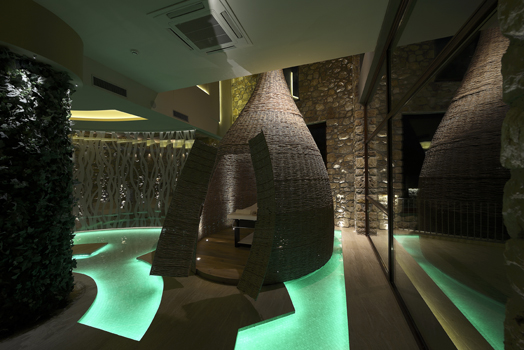 Massage Room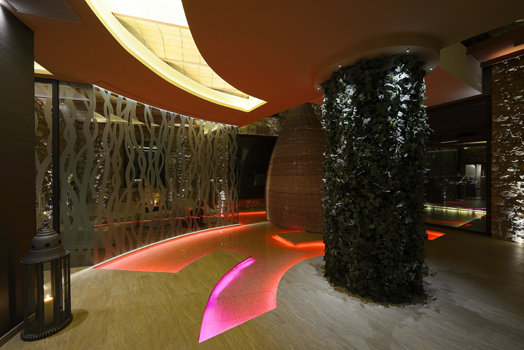 Spa Hall Area
A highlight is the treatment room, designed like a "cocoon" or large basket, six meters high and floating on a pool. Based on local construction techniques, it involves the use of natural cord grass marsh wicker over a metal structure. The scent of the "straw" spread by this real sculpture enhances the olfactory experience; while a beautiful graphic 10 meters long recreates the image of the Cathedral of Monreale all along the corridor that leads to the humid area. Mood lighting completes the picture.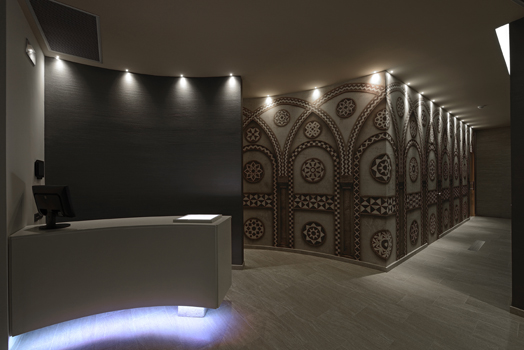 Humid Zone Reception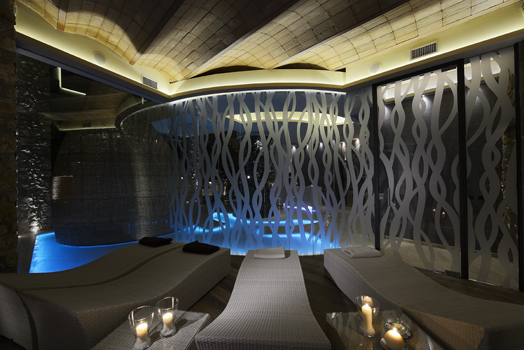 Relaxation Room
With a homogeneous ambience, high on aesthetics and sensory appeal, the seven themed suites are the other major attraction to showcase the antiquity of the island.