Photography: Nacasa & Partners Inc.; courtesy the architects
Attention Fashionistas! Tokyo's Igarashi Design Studio translates renowned Japanese fashion designer, Tsumori Chisato's signature into a pulsating retail outlet...
Using the designer's penchant for material, form, style and colour; her personal likes, dislikes; interests, her sketches and illustrations too, interior designer, Hisae Igarashi has
worked on the design schematic and detailing for Tsumori's signature retail store in Shanghai.
Opened to the public in February 2014, this flagship store is sure to
melt every devout fashion follower's heart. Bearing in mind the concept of the store – signature Tsumori style, the design team has creatively incorporated the fashion designer's illustrations, sketches and thoughts into pragmatic detailing.
.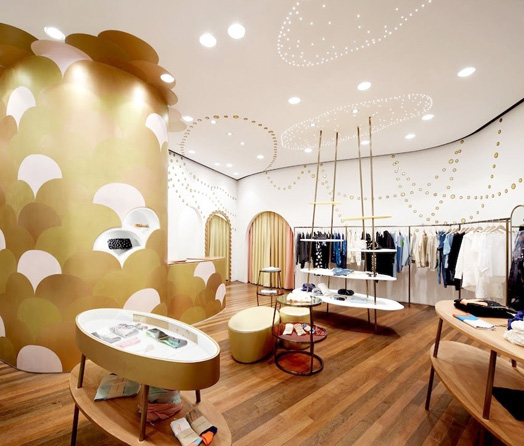 .
The store sports a gold-hued theme with simplistic dots and wave patterns that intrigue in an offbeat way. The wave patterns cover entire walls and extend up to the ceiling complemented by curvilinear patterns of special lighting. Barring a few straight lines in the display units, oval cloud forms abound.
The hi

ghlight of the store is its facade, which features the traditional Japanese wave patterns in several shades of gold known as 'Seigaiha'. Tsumori's freehand sketches and illustrations are overlaid here, and form elegant and distinctive cambers, outlining the openings in the facade. As visitors walk in, taking in the façade, they are led into the unique 'entrance dome' composed of a colourful collage of glass mosaic tiles, instantaneously adding to the awe-factor of the store and the brand.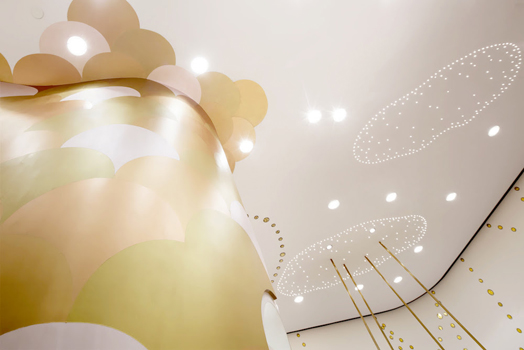 .
.
The store is characterized by its fluid lines and marked feminity. With this design exercise, the brand sustains its signature as can be seen in its other stores across the world.