Photography:
Andrea Martiradonna
; courtesy the architect
Brioni – premium menswear brand is on a glob trot and Park Associati is the architect behind the high fashion Italian brand's bespoke international signature...
The new flagship store of Brioni has recently opened in Frankfurt. Of all the Brioni boutiques, this one has the most extensive spread – 320 sq. m. on two floors.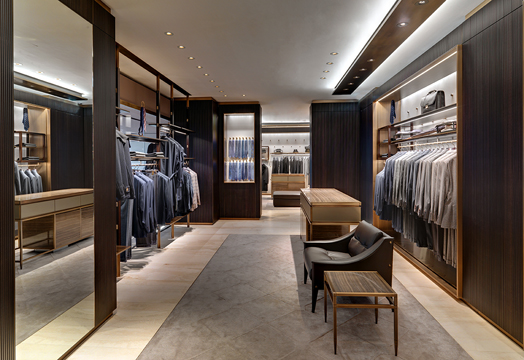 .
Born in the city of Rome, the heart of European classicism, the brand has always risen to discerning taste and extremely high customer expectations – a fact that is endorsed by Brioni boutique interiors. Milan-based Park Associati architects, who have been entrusted the task of the global Brioni footprint, have fostered a chic ambience that revels in lushness and pride.
.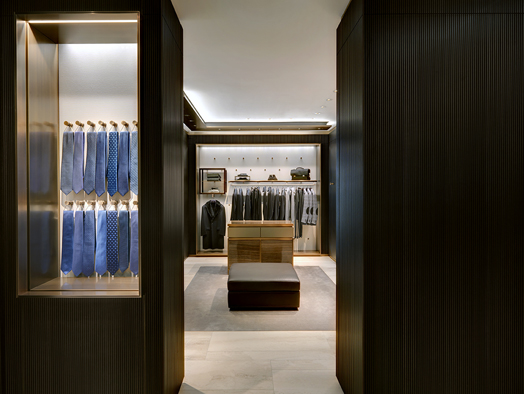 .
The double-height ground level of the Frankfurt store displays accessories like scarves, ties, belts, bags etc in especially designed floor-to-ceiling cabinets; and offers its guests plush leisure spaces; while the floor above is dedicated to footwear, formalwear and tailor-made, and to the VIP area.
.
.
The concept of elegance and exclusivity that characterizes the made-to-measure brand is emphasized by the presence of a lounge area fitted out with unique furniture in the VIP room, where a large closet opens up to show all finishes and fabrics used for customizing clothes.
God is in details
In fact, customization is the key to the design of Brioni interiors worldwide. With emphasis on hand-made, exquisiteness and craftsmanship is subtly and silently eulogised in terms of burnished cabinets, sleek joinery, well anointed displays and clearly visible meticulousness of the brand.
.
.
Integrating the mission of the brand into its interior design, the architects accomplish an invaluable signature in the store with unassuming plain surfaces juxtaposed against striped wooden membranes and the natural textural nuances of wood. The staircase becomes the highlight here, breaking the linearity of the space and growing in an acute angle between the ramps.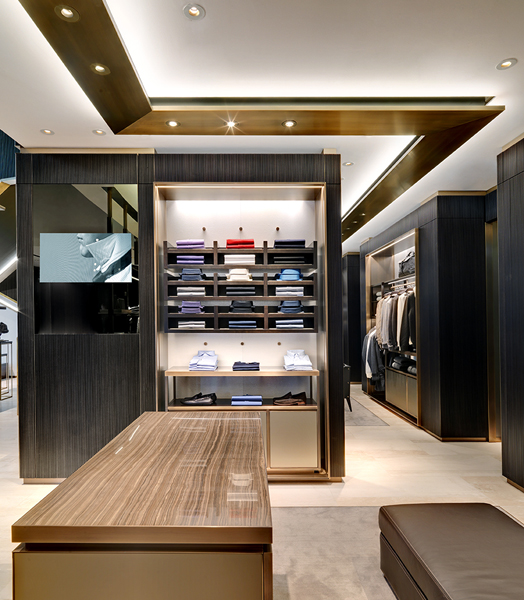 .
Combining formal elegance and modernity, this Brioni flagship, inspired from the great masters of Italian design deliberately plays with fewer materials, with careful attention to detail in order to communicate discreet luxury and preciousness, establishing bespoke brand vocabulary.