Photography: Courtesy 10 Design
Seventh Heaven is a high-end residential development in Dubai conceived by

architecture firm,

10 Design that balances

panoramic views and large terraces for each unit with the environmental challenge of designing in the hot climate of Dubai…
.
The project incorporates 157 high-end luxury apartments, garden villas, and sky villas, each with exceptionally high internal spaces flooded with natural daylight leading onto extensive private terraces and gardens. The exclusive range of penthouse and garden homes, luxurious master suites and internal gardens each offer unparalleled views of Dubai's iconic skyline from private terraces equipped with plunge pools.

At the lower levels, units enjoy private gardens and an intimate connection with the lush natural surroundings while at the upper levels each unit benefits from approximately 30sqm of terrace space.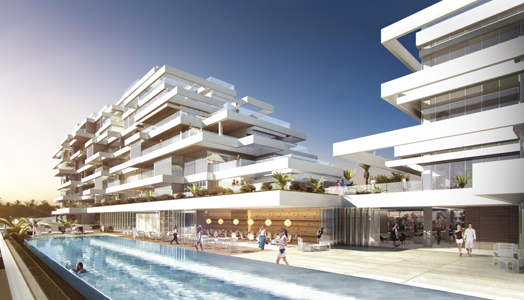 .
Split into two staggered blocks, and linked by common amenity deck and retail accommodation, residences are positioned along an east-west axis, maximizing southern exposure and northern views, while minimizing east and west solar angles. Placement on site will ensure exposure to cooling night time breezes and landscaping will help mitigate the impact of sandstorms.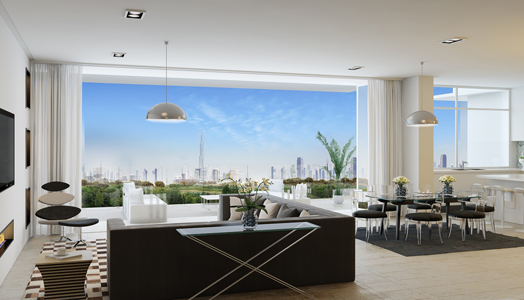 .
The units themselves feature high ceilings and shallow floor plates allowing rich cross ventilation and daylight, further enhanced through a customized system of balconies and shading structures. This ensures reduction of cooling loads even during the hottest points of summer and reduction of artificial light loads year round.
.
The development of landscaping vegetation and water bodies helps to prolong the period of comfort, enabling the site for active lifestyles. Recycling of water for landscaping alleviates the typical stress on aquifers, and integrated building systems ensure increased efficiency in the operation of the building. The integrated approach of the entire design and construction team will lead to the delivery of a holistic sustainable project.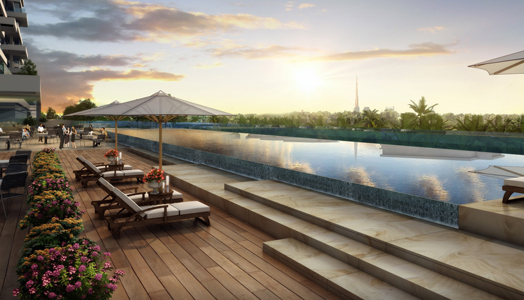 .
The Seventh Heaven residences at Al Barari are being designed and developed to create an eco-friendly and sustainable community ensuring preservation and longevity of natural resources. The project responds to the distinct climate of Dubai, and strives to elongate the comfortable conditions of the year through incorporation of the best environmental strategies.