Compiled by Anurag Pandey
Photography:Courtesy the architects
.
Welcome to Odense, Denmark. In the "little mermaid's tear", you will see that renowned storyteller, Hans Christian Andersen's world of fairy tales continues to enthrall...
Remember those moments of nostalgic emotions effectively created by Hans Christian in his fairy tales?
While his fables have touched the world with their prodigious literature; his fancy world now reaches out beyond the fictional… in his very mansion.
.
Architects Liu Yang and Gao Wei have designed Hans Christian's house into a museum and children's playground - with a different perspective - to bring alive his world of fairy tales, all the way from paper to pixels to bricks. Inspired by the legendary 'tear' of The Little Mermaid that resonated with Hans' readers, the duo has created a unique
architectural form –a space rendered by pure light and shadow, which integrates the house with its landscape to create a colourful make-believe world. The place triggers public to reminisce the virtual wonderland in Hans Christian's books through the real world.
.
The building has an underground level, offering a playground for children. The 'tear' constructed on the upper level disperses light
into this place creating a boundless space like an under ocean world. All exhibition walls, bookshelves, tables and chairs are like ripples centered around the house to make people feel that there are a part of the fairy tales coming out from Hans Christian's house. The main entrances to the museum and playground are right next to each other under the 'tear'.
.
Inside, a staircase connects the house to the playground, which in turn is connected to the underground parking. The idea here is to connect everything, so that nothing in the city is isolated from the place, encouraging the public to join in.
The structure stands 2,400 sq. m above ground and 7,500 sq. m. below ground.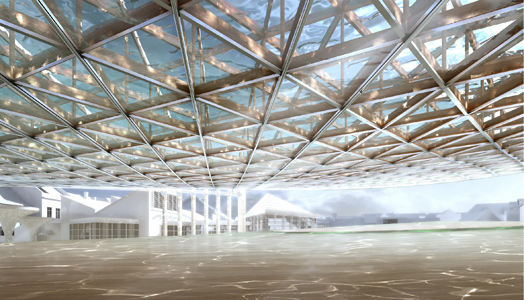 .
Architecturally, the 'tear' is formed by steel suspension mesh structure, which is supported by three sets of column groups; the underground is housed by a large wooden wavy roof, where wooden pieces of varying sizes are connected together by a curved steel beam at a distance of 1500mm. and the concrete walls under the roof are organized in a ripple pattern around the centre. Ancient Chinese construction technique called "boiled wax" is used piece-by-piece to make the wooden underlay waterproof.
Wood and glass are bonded together by using stainless steel skeleton.
The water used in the "Tear" is recyclable and maintained at a constant temperature of up to 1.5°C.
.
The entire grid is covered with a transparent resin material, which makes the terraced-like roof into a slope, so kids can freely play on it. Transparent resin not only reflects the water shadow from above, but also makes the floor like shining water. When people are in the "tear", they feel they are
in
the tear!