Photography: ShuHe; courtesy the architect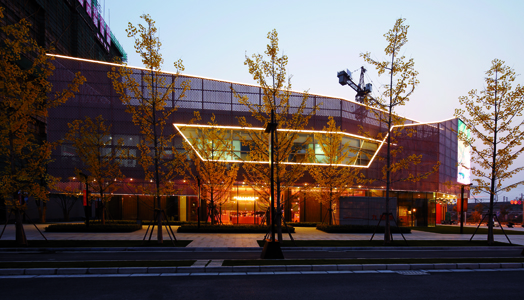 .
Award-winning international design studio SPARK has created yet another interesting and distinctive piece of architecture, this time for their client Vanke real estate developers in Nanjing, China.
The building's design is inspired by its surroundings. Located adjacent to the busy Nanjing South Railway Station, the sales gallery has been "conceived as an abstract reflection of railway track geometry".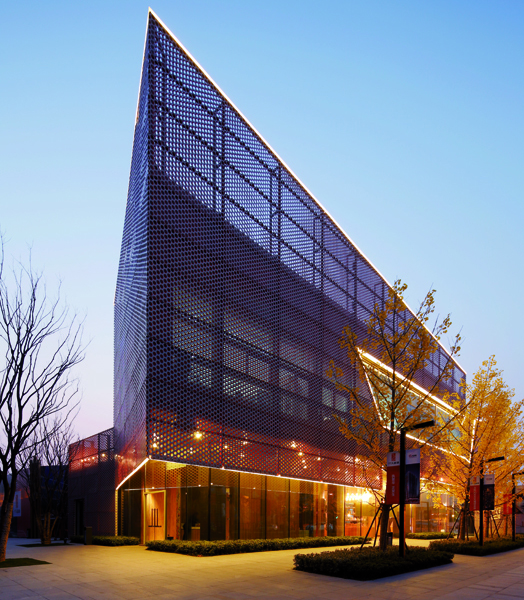 .
Project directors Stephen Pimbley and Lim Wenhui, along with their team, have meticulously taken into account the functional and conceptual considerations of this prime location to make a two-storey sales gallery that showcases
a broad spectrum of spaces for mixed-use development.
A double-layered perforated polished aluminium layer, painted in red, gives a striking moiré effect to the exterior façade, "which

is a markedly manufactured finish

in contradiction to the natural finishes of the interior, where the folded and perforated surfaces and organic finishes visibly converge".
.
During the day, the perforated layer allows natural light to enter the building and the inmates can view the sky through the red 'holes' in the exterior wall.
A large LED screen has been deliberately mounted on the front facade of the building so that passing vehicle and railway traffic take notice of the display. This angular-folded façade and lines of light on the rim allow a continuum of fluent and dynamic space.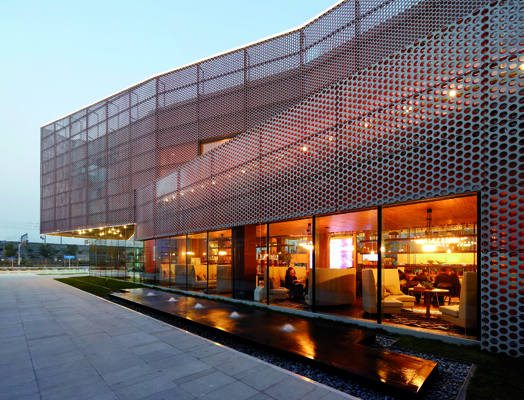 .
At night, the lit up rim of the façade gives the building an attractive and distinct look, while the light from the galleries inside the building reflects on glass panels laid behind the see-through perforated moiré layer.
.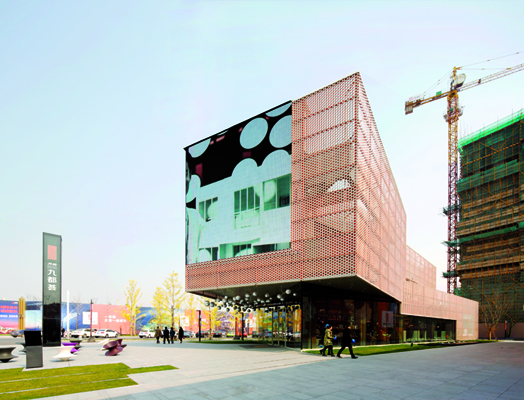 .
Trees and carpet grass envelope the four sides of the building, lending natural appeal. Also, chairs in the shape of the heads of thumbtacks (drawing pins) within the building complex complete the commercial, yet entertaining

look of the sales gallery.
The design studio believes in a "bold, yet common-sense vision of enveloping the city into our buildings, and of unfolding our buildings into the city – creating opportunities for layered experiences and engaging places". And they have, indeed, used the space well.