By Avinash Yadav
Photography: Courtesy World Wide Web
As if the game itself is not dramatic enough to keep you on the edge of your seat, the FIFA World Cup trophy has a contributive legacy with its fair share of emotional quotient…
As the stage is set between Argentina and Germany for the exciting finale, IAnD brings you an insight into the design of the FIFA trophy that speaks volumes for its heritage.
.
Drawing relevance from the ancient Greek goddess

"Nike" meaning victory, the

FIFA World Cup initially named 'Victory' was designed by French sculptor Abel Lafleur. It was first presented in

1930 at the advent of the FIFA World Cup. Sixteen years later, the trophy came to be known as the

'Jules Rimet Cup' named after the founding father of the FIFA World Cup.
.
G

old plating on sterling silver saw the trophy stand tall at 14 inches, mounted on marble that was later replaced with the dazzling semi-precious stone,

Lapis Lazuli

at an overall weight of 3.8kg. Sadly, the trophy that was handed over to Brazil for their 3 consecutive FIFA victories was reported stolen from public exhibition twice over, and never recovered.
In 1970, FIFA commissioned the design of the new trophy. 53 designs were submitted from 7 countries across the world and it was Italian designer -sculptor from Milan, Silvio Gazzaniga's design that defined the end of one era and marked the beginning of a new generation that breathed energy into the game, keeping its legacy alive, symbolizing

effort, harmony, peace and dynamism.
.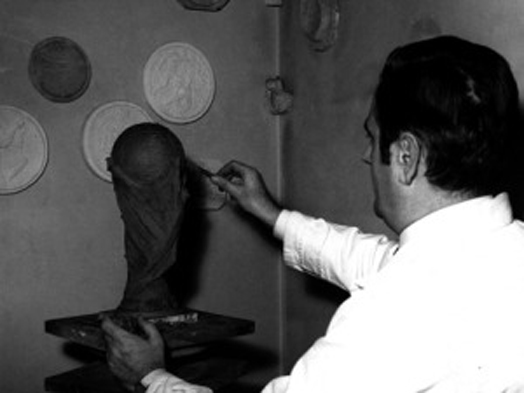 .
He sketched a design and
moulded
two fundamental thoughts – that of a triumphant athlete and that of the world, uniting into a single entity. The green Malachite circular ring at its base adds a touch of colour encapsulating the significance of the football field. This 18 carat golden beauty stands tall at 14.5inches and weighs 13.61 pounds. It also proudly carries the names of all preceding champions – from 1974 onwards - at its base.
.
"The lines spring out from the base, rising in spirals, stretching out to receive the world. From the remarkable dynamic tensions of the compact body of the sculpture rise the figures of two athletes at the stirring moment of victory," explains Silvio Gazzaniga.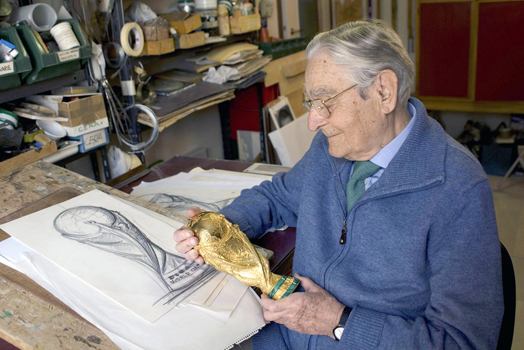 Silvio Gazzaniga with his prized creation
The FIFA World Cup will keep travelling destinations and changing hands with every new edition. But, Silvio Gazzaniga is one man, whose name will remain etched in the history of football.