Photography: Kaare Viemose, Wilhelm Rejnus and Linus Flodin; courtesy the architects
.
White walls, spiral ramp, well-lit niches and a refreshingly
new library culture that stages a wide range of experiences and inspiration,
defines the newly opened Dalarna University Library in Sweden.
The 3,000 m. sq. library has been organised as a "spiral of knowledge" that
integrates naturally with the surrounding landscape and the university campus
. A sloping ramp runs along the interior of the building in consecutive spirals and wide staircases, creating a spiral-shaped space, allowing students to move freely around the library.
.
.
Conceptualized and built by Danish architects ADEPT, t
he exterior façade has a distinct presence. Highly polished stainless steel louvers are horizontally placed to shield the Siberian larch-clad facade from direct sun and to reflect light.
The characteristic double facade has been developed in collaboration with Danish artist Jeppe Hein, whose artistic oeuvre has been better explored as a functional aspect of the building rather than as an isolated work of art on display. It is a a
detailed and refined expression with an immateriality that mirrors its surroundings and the people in it with broken reflections.
In winters, snow settles on these angular louvers, protecting the building from cold.
.
.
Inside, appearing coffered, the ceiling has been smartly punctured to
accommodate
lights. The architects have ensured maximum utilisation of the Sweden local tradition of using wood as construction material for its exterior walls, flooring and bookshelves.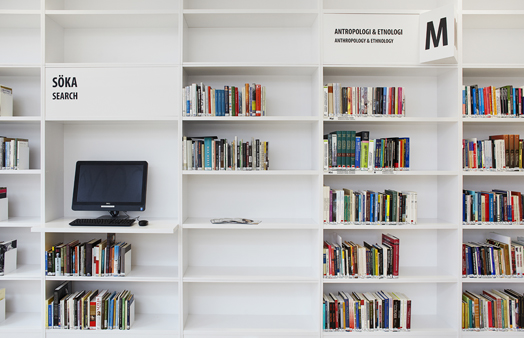 .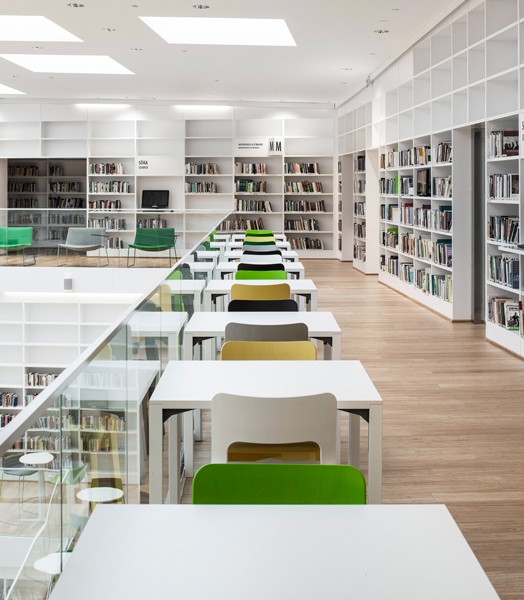 .
The innermost space - the arena constitutes the heart of the building, where bookshelves form all the walls in the library as you move from the arena towards the façade. While the open arena encourages group banter and congregation with a
conventional seating arrangement, attention is paid to open up study niches around the space, where students can retreat for a quiet, yet comfortable, time. This architectural thought has helped make effective use of space, especially under the sloping ramps, that could have otherwise been wasted.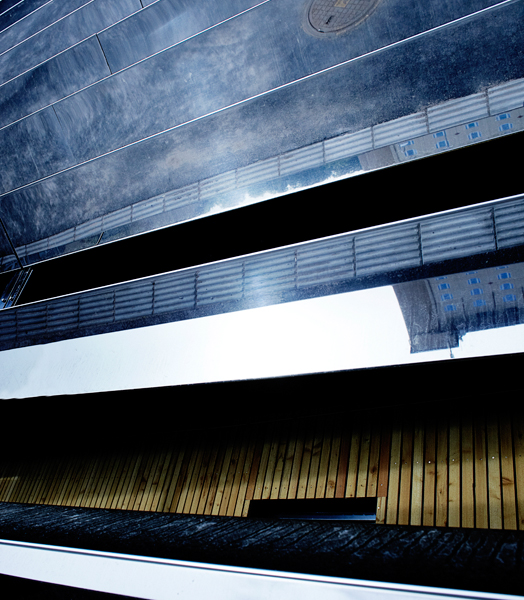 .
.
Even the large central staircase is designed with periodic coloured mats for an informal sitting area. Though the interiors of the library have been painted snow white, multiple hues fill the space with coloured chairs and a wide range of books (read book covers).
.
The library pulsates as both a study environment and a much-talked about meeting place!