Photography: Courtesy the architects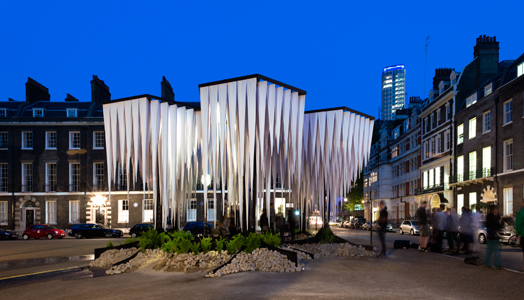 .
For GUN Architects, what began as an inclination towards working with natural forces - particularly water - resulted in the creation of the award-winning Water Cathedral, a Chile-based project in 2011. The Chilean-German architect duo revisited this installation in the form of the Rainforest Pavillion for the recently concluded London Festival of Architecture that celebrates the city's role as a global hub of architectural experimentation, thinking, learning and practice.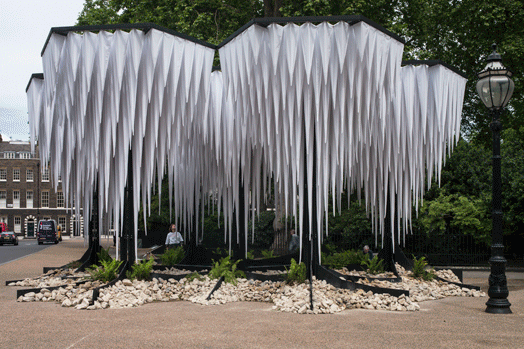 .
The Rainforest Pavilion in Bedford Square is a 5-metre-high abstract interpretation of a rainforest environment. Like the Water Cathedral, it incorporates similar elements such as prism-shaped stalactite formations, trickling water and the open-air nature of the installation, where inverted-pyramid-like structures hold bunches of stalactite-shaped fabric beams that form a canopy of sorts. Water periodically drips from these stalactites on to the rocks, ferns and water pools that lie below. It offers one a sensory experience, complete with the sounds, smells and feel of being in a rainforest eco-system and visitors are encouraged to sit under this pavilion to enjoy a simulated rainforest experience in the midst of the city.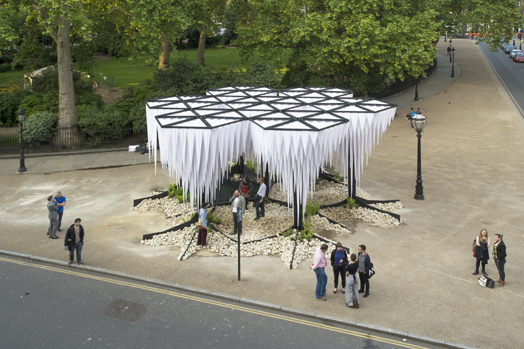 .
.
The attempt to develop contextual design forms apt for today's fast-growing cities and the geographical conditions that are a result of it, constitute the crux of this architectural experiment. For one, it is situated in the busy business district of Bedford Square. Secondly, much like an oasis in the city, this temporary installation also revives the tradition of the Victorian summer pavilion.
.
An exhibition in the main AA gallery complements this installation, explaining the structural and conceptual evolution of the Rainforest Pavilion, right down to the idea behind the Water Cathedral.
.
The Rainforest Pavilion, on exhibit until July 19, 2014 is garnering a variety of reactions from the masses.