Photography: Masao Nishikawa; courtesy the architect
.
Apollo Architects create the perfect blend of wood and concrete using 'framed' views as the mainstay of this home in Tokyo.
Completed just 2 months ago, the home is a commendable example of cost-effective architecture in reinforced concrete. Both, its low cost and its short construction period are attributed to the choice of material that not only influences a model home in the current economic turbulence in Japan – what with the recovery from earthquakes and the buzzing preparation for the Tokyo Olympics; but bodes well for the overall look and feel of the minimalist home.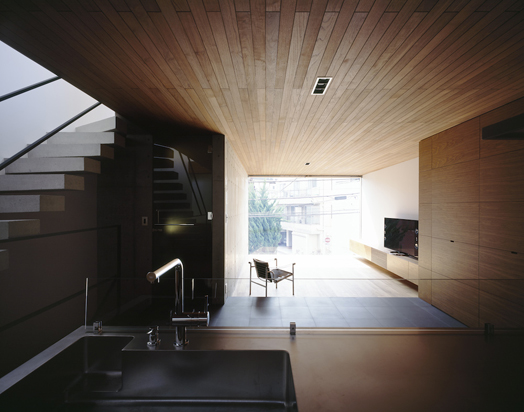 .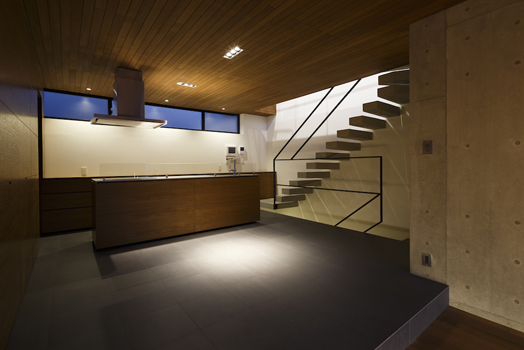 .
Ar.
Satoshi Kurosaki
substitutes regular wood framework with
exposed concrete with randomly allocated FRP (fiber-reinforced plastic) framework; anointing the façade with characteristic one-sheet glass. With the walls and the back of the eaves clad with water-resistant itauba wood, a perfect contrast of wood and concrete constitutes a chic backdrop.
.
.
The richness of teakwood flatters the second floor ceiling and strengthens a sense of unity with the exterior. It continues its masculine appeal in the flooring, furniture, and fixtures, complemented by abundant light and chiaroscuro elements across walls, floor and ceiling from the large framed openings.
.
.
Stacked as a ground-plus-two structure, the interior walls are highly insulated with a 60mm heat insulator, and the roof uses a frame-waterproof material, resulting in it being functional while cutting costs. Located in a flood-prone area, the entrance has been cleverly raised by 800mm while the ceiling of the studio on the first floor has been lowered to balance the volume. Use of LEDs and cloth as an adjunct to wood and concrete in both, walls and ceiling heightens the unusual aesthetics of this simple but well defined residence.