Sketches: Courtesy the architects
.
Conceptualized as a unique work of art, the House of Hungarian Music, inspired by the violin, is a metaphoric integration of music and art; an architecture that is interactive in principle and resplendent with nature…
The idea is to create an elevation of a musical space inspired by the geometry of violins. Just like swift curves and stretched strings of violin unify to create pristine music, the curving walls and multi levels are meant to meld spaces for peaceful practice of music.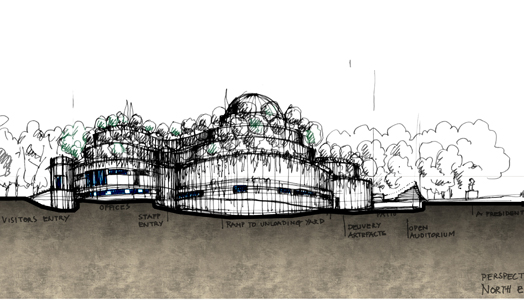 .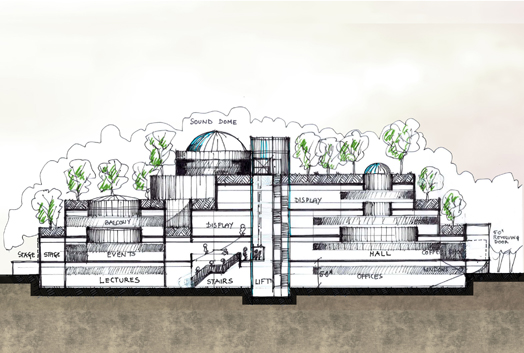 .
.
The building is to be divided into four decreasing conical-shaped cylinders that would form top light atrium spaces. The circles, on an orthogonal and radial grid, are to be square or rectangular forms; "shoe box", can be formed to satisfy different acoustic demands and the interior levels would be connected by central stairs in a rising curve. With each of the floors to be dedicated to a specific function - artifact handling in the north circle, management offices in the east circle, technical plant services in the south circle and the west circle catering to exhibition activities with class rooms, display and work areas for instrument making, the architectural beauty of the interiors is to be enhanced by the big central atrium with wrap-around balconies.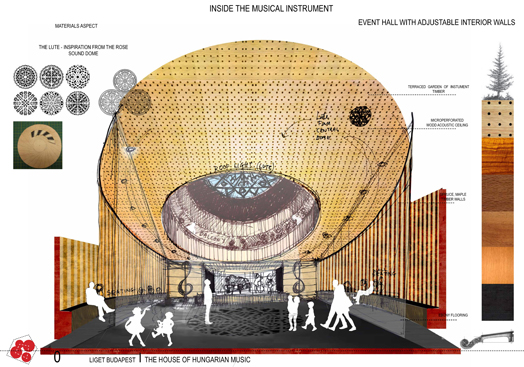 .
The material palette proposed constitutes walls to be finished in red woods spruces (an interpretation of the violin) with ebony floor without any openings on the walls; the only natural light would come from the top of atrium roof, where decorative glass cupolas (inspired by the lute) would bathe the different terrace floors in soft light. The outside wall would be finished in strips of wood; and the inside wall in micro-perforated panels of maple and spruce.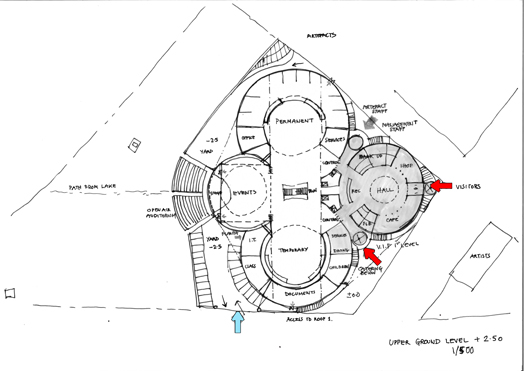 .
While mandatory services viz., fine dine, book shop, musical store, workshop sales, even a rooftop wine bar would be a part of the public spaces, the controls into the exhibition space are planned onto each side of the vertical circulation tower with passenger and goods lifts and service stairs, etc. With the building planned literally to be under the earth and trees, energy efficiency costs are also pitched low.
.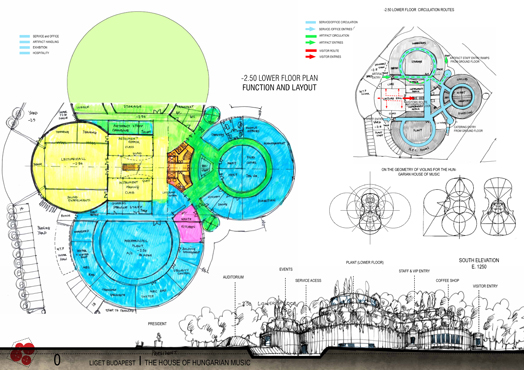 .
The proposal is very compact, with a low surface-to-volume ratio and thus, is bound to minimize the heat losses and gains of the building. The design concentrates on exploiting the process of evapo-transpiration carried out by plants to make it naturally insulated and reduce the thermal radiation.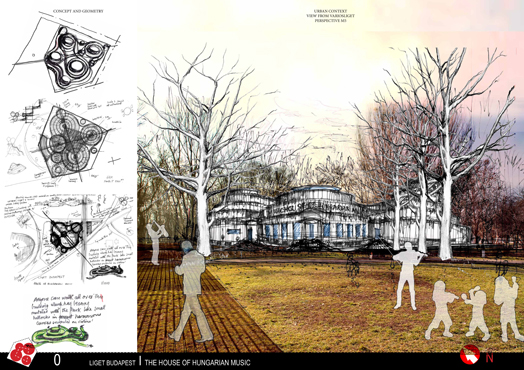 .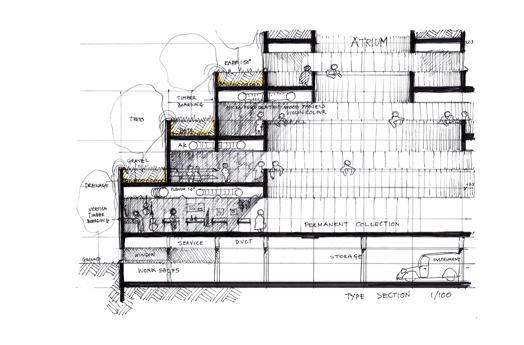 .
With the perfect demonstration of architectonic elements through its blue-print, House of Hungarian Music should be an architect's dream and a musician's hymn. However, we regret to state that this beautiful project - a competition entry by Ar. Ricardo Bofill has remained a concept.