Photography: Courtesy the architect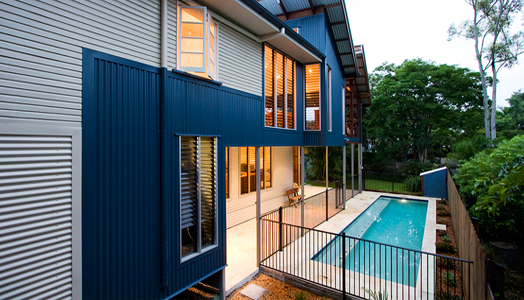 .
D S Architecture, Australia renovates a 60-year old residential property near Brisbane River, Queensland, by proposing a design solution in conjunction with contemporary times...
This 1950's, approx. 6500 sq. ft. home that stands in an inundation-prone area necessitated renovation that would leverage it to a safe height in the event of major flooding; with the area below being constructively employed otherwise. The owners also wanted to open the home to the natural breezy environment.
.
So, the 3-bedroom home is raised by a good 13 ft. to create a beautiful all-weather deck that can be enjoyed throughout the year. The previous deck with its low ceiling and dampening ambience is now replaced with a new deck with a high vaulted roof that instantly transforms the interiors into being bright and airy; with the added benefit of being able to harness water for rainwater harvesting.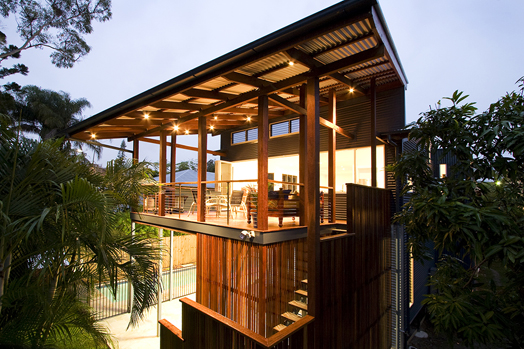 .
The additional area created below the deck features a large rumpus room and spare bedroom serviced by a bathroom and toilet; also the laundry and garage. This entire ground floor space is not only visually appealing, but also high in practicality as it blends in beautifully with the swimming pool creating an ideal space for active or passive entertainment.
.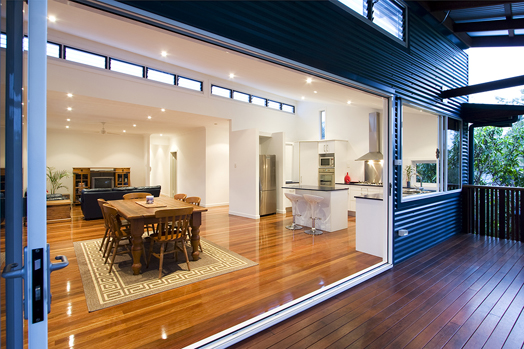 .
Above, the deck opens up allowing for greater inclusion and the living room is relocated here, taking advantage of the openness and the exterior landscape. Bi-fold doors facilitate communication through to the kitchen in case of a deck party; also enabling seclusion of the interior and exterior spaces, as desired.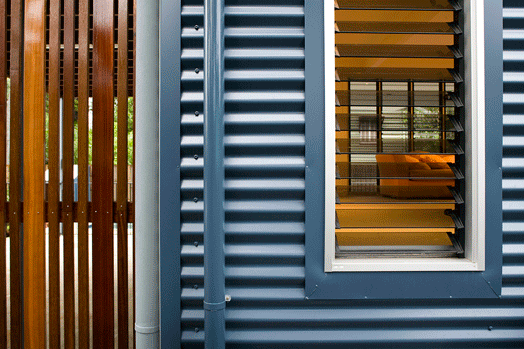 .
The home and its surroundings depict a very tropical feel, what with a clever use of sandstone pavers around the pool, which contrast beautifully with the corrugated iron of the exterior walls. Thicker handrails on the stairways leading to the upper floor and wider lintels sustain the architectural vocabulary from deck to yard, surrounded as the home is by mango and palm trees.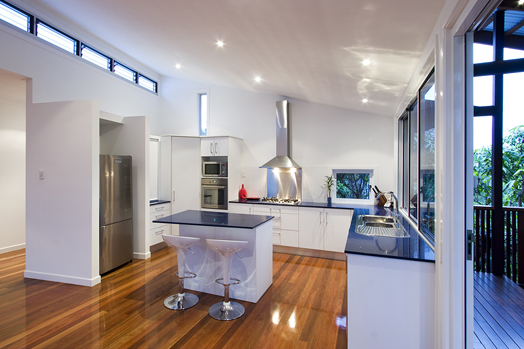 .
A challenge that has been beautifully addressed is that the property has two-street access; and softening the harshness of the Southern side, the home is anointed with a stepped roof – aesthetically resplendent and pragmatically, a natural weather-balancing element.