Photography: Courtesy the architects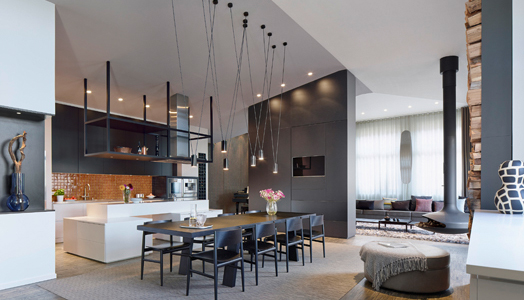 .
Army barracks transform into a plush open-plan home, where warm natural materials and colours find a corresponding analogy in cuboid solid surface forms and glass surfaces…
When interior design firm Ippolito Fleitz were presented with a 400 sq. m. loft space in the former army barracks in Esslingen, south of Germany, to be transformed into a home for a couple and their three kids, they zeroed in on an open plan that would aesthetically be differentiated into the mandatory zones of living, dining, retiring etc.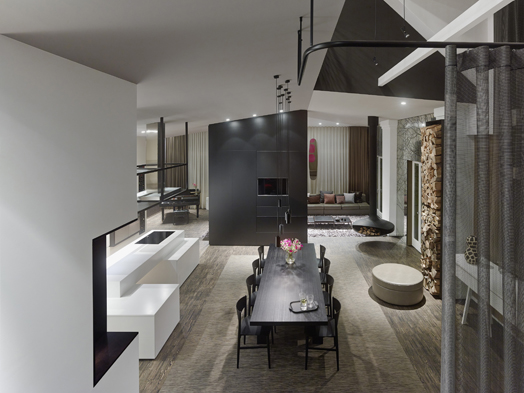 .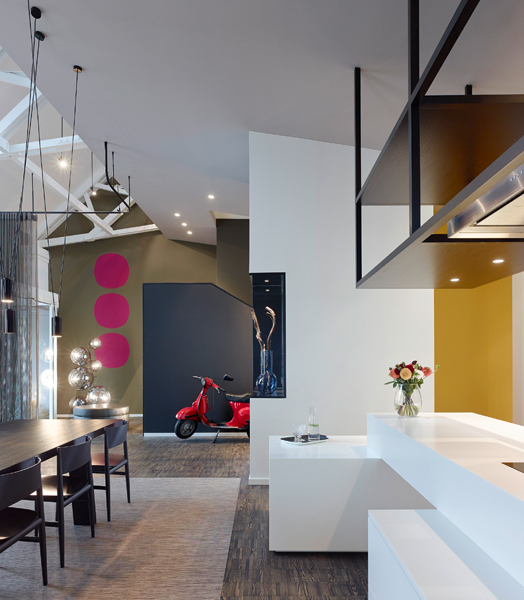 .
The vision is accomplished via tantalising visual perspectives that juxtapose a horizontal-vertical axis accentuated by the use of floor-to-ceiling mirror and glass, interspersed with an interesting mix of stainless steel, lacquered wood and solid surface forms.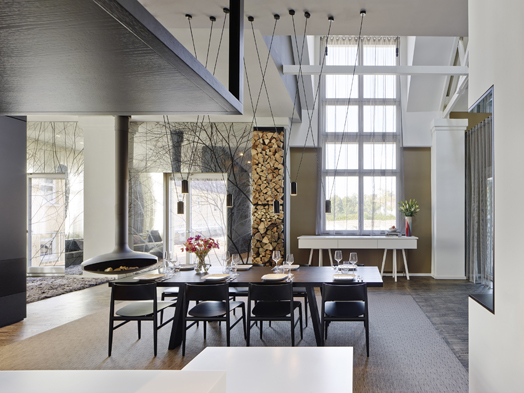 .
.
The ground floor plan is centred around a slender long dining area flanked by the kitchen on side and plush living area on the other. The entrance is a perfunctory space demarcated by an L-shaped sheer full-height curtain, while other camouflages run deeper like, the wardrobe at the foot of the staircase is concealed behind a mirrored wall; the kids rooms are concealed behind a row of kitchen units, the master bath is sectioned off from the corridor by a sheer mirrored wall and the like.
.
The home is simply yet very tastefully designed. Heightened aesthetics are catered to in the form of visually arresting pockets: coloured glass reflects the living room on one side; a grand piano stands in front of an upholstered fabric wall, surmounted by a skylight; a mirrored wall borders a tall firewood container, which holds the fuel for the sculptural, suspended wood-burning stove; and the highlight: a branching pattern of lines is traced upon the mirrored surfaces and glass doors, awakening associations with twigs and branches and overlapping with the actual view of the garden.
Warm natural materials and colours – including a dark-stained oak parquet floor, earthy tones on the walls and curtains, and shimmering golden surfaces underline the understated feel. The ambience receives an additional dynamic twist thanks to the sloping ceilings; their individual surfaces accentuated by a contrasting colour scheme.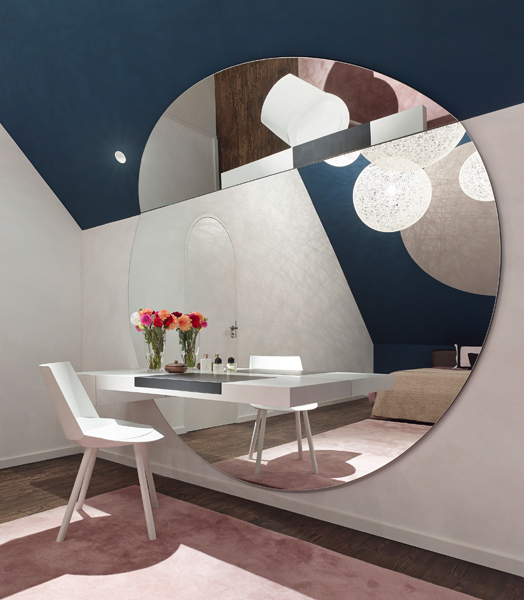 .
Upstairs, the master suite is a house-in-house construction, with the bedroom hermetically sealed on specific request. The bedroom, the contours of which follow the simplest of house outlines – five strokes of a pencil – only retains contact with the outside world via the doors and a curtained passage to a skylight and windows. The ceiling's warm dark blue is punctuated by a large grey circle. The circle and side walls serve as a blank canvas for a labyrinthine shadow-play that is cast in all directions by five fragile spheres of light.
Overall, the home rises up beatifically to its surrounding hillscape – a luxurious atypical cocoon in the lap of nature.