Photography:
Micheal Moran; c
ourtesy the architect
.
Ar. Shigeru Ban's Aspen Art Museum sits in a glass box wrapped in a wooden lattice frame, upheld by the architect's reinventive design approach...
Set high in the Rockies in the ski town of Aspen, Colorado, the 33,000 sq. ft museum designed by Japanese architect Shigeru Ban adopts an innovative climate design concept and maximized opportunities for day-lighting, while mediating direct solar gain; besides anointing the surroundings with a categorical building facade.
.
Based on five distinctive elements: the Moving room or the glass reception elevator; 'walk-able' skylights on the roof-top sculpture garden; wooden screens, wooden roof structure and the grand staircase, the museum incorporates into its design the theme of 'invisible structure', a la signature Shigeru Ban.
.
.
Beginning from the reception elevator, or the Moving Room, located in the northeast corner of the building on the first level, visitors experience the slow unfolding of the surrounding mountainous landscape and the striking interiors through the large, transparent elevator that transports them to a rooftop.
.
The rooftop space - Aspen's only public rooftop - that houses a sculpture garden and café is partially covered by a triangular wooden shaded structure, while the remainder is open to a terrace. 'Walk-able' skylights on the roof and terrace throw daylight into the garden, while upper roof skylights bring light down to the lower skylights and the interiors of the building.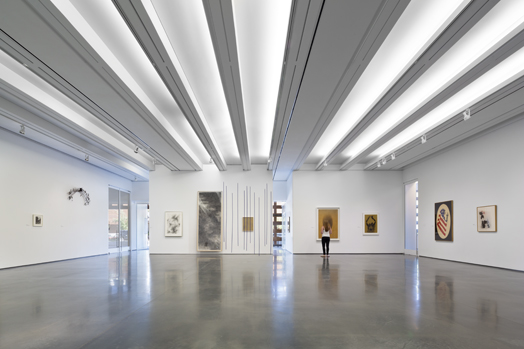 .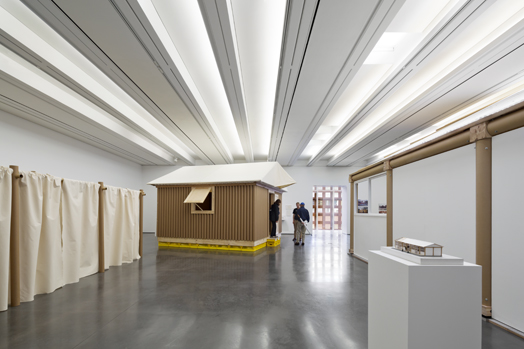 .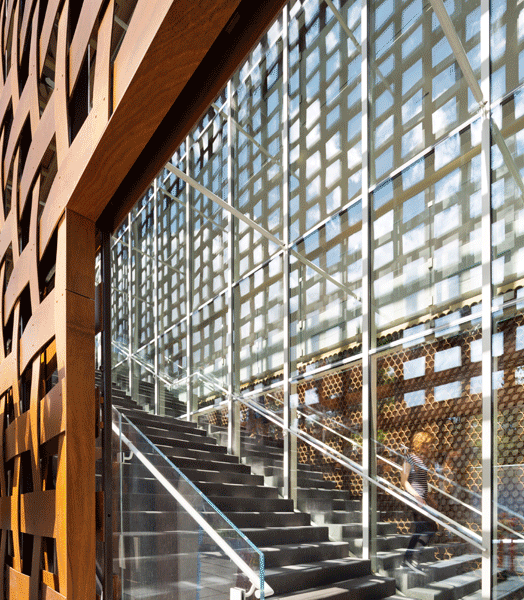 .
Incidentally, interior-exterior seamlessness is established through the Grand Staircase at the first level that provides access to the public rooftop as well as to all gallery levels inside; with mobile art platforms on the exterior staircase adding additional gallery space. Besides, the three levels house six galleries with displays on each level revealed upon descent, either via the Grand Staircase or the glass elevator. Structural glass floors add to the inflow of natural light in these spaces.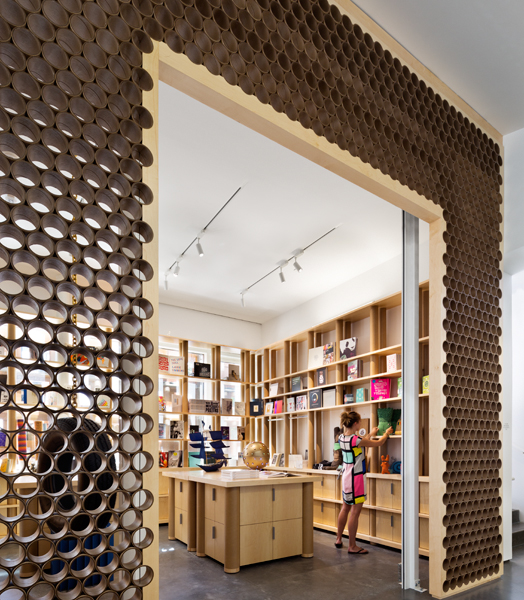 .
Tremendous play of chiaroscuro elements lends the museum with its distinctive ambience. The glass-encased building, wrapped in woven wooden screens and long span timber space frame supporting the roof, filter in natural light through their openings, casting intriguing shadows on the main stairs, corridor and entry spaces. The innovative climate concept relies on a 'thermos' principal that allows spaces with a higher tolerance for climate variation to be wrapped around gallery spaces, where climate variation is minimised. In fact, the entire upper level of the building can be opened to the outdoors by retracting a large-scale operable wall system, augmenting the interior-exterior equation and marking a 'first' unique feature to museum design.