Compiled by TeamIAnD
Photography: Paul KOZLOWSKI; courtesy NBJ Architects
©photoarchitecture.com
A series of cohesive space frames – open and enclosed – rejuvenate the horticultural high school Honoré de Balzac in the south of France…
Several institutional designs are based on a common premise – openness and connectivity – where spaces are interactive and characterized by multiple utility; and constitute the core of the building that forms the main connect with various areas. The reconstruction exercise for Honoré de Balzac de Castelnau-le-Lez by NBJ Architects was aimed at re-conquering space by better distribution of construction in order to create a scale of user-friendliness in the buildings as in the outdoor areas.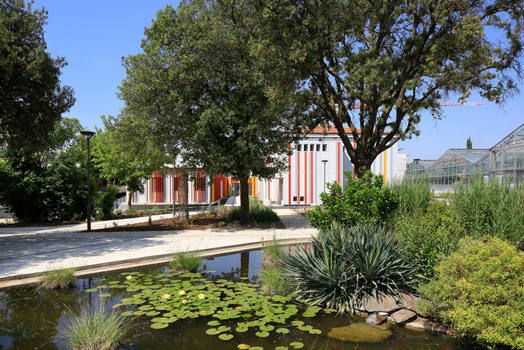 ©photoarchitecture.com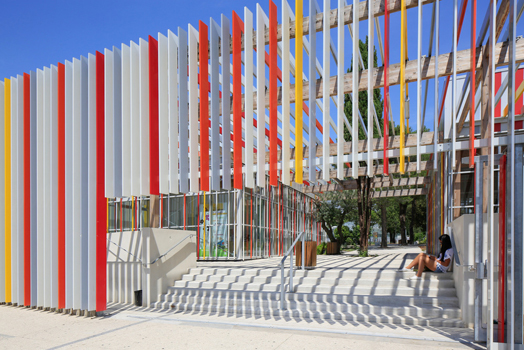 ©photoarchitecture.com
The first action was to reconsider the current landscape and to bring functionality to external installations, thus conveying true space qualities; and to create a total logic of circulation within the site. The constitution of this new urbanity becomes the base of a shared and porous space, generator of exchanges comparable with the strategic constitution of the campus. Nature then becomes the vector organized around inter-connected buildings.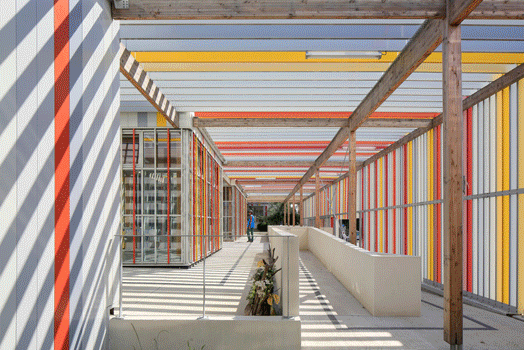 ©photoarchitecture.com
One of the challenges of this project was the establishment of a work pushed on the concept of filter. High verticality and successive brise-soleil break up space and offer variations of shade and light with just the right measure of the transparency.
©photoarchitecture.com
Taking this further is a reconstituted principal access on the public pathway. The entrance confers a new image on the high school, anchored in its local fabric, with a vibrant yet understated coloured luminous framework.
©photoarchitecture.com
Drawing contextually, the ubiquitous greenhouses are positioned centrally, their environments controlled to ensure all-year-round flora and fauna – relating directly to the pedagogy of the establishment.
The reconstituted building masses open up the campus with a living-amidst-nature feel, where curriculum is brought out of the textbook, nurturing a holistic rather than compartmentalised growth.