Photography;
Torben Eskerod; courtesy TERROIR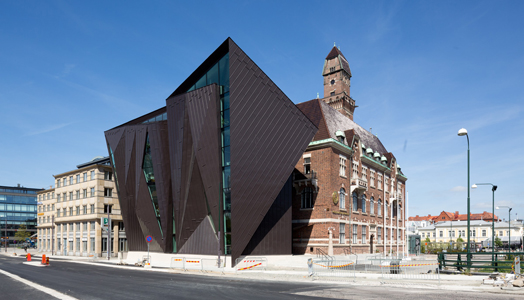 .
The United Nations affiliated World Maritime University (WMU) in Malmo, Sweden comes to fruition after four years and a three-stage international competition win.
Conceived as a spatial "hinge" that marks a transition point on the street extending from the old town of Malmo to the harbour area, where the building is sited, TERROIR architectural practice in association with Kim Utzon Architects explore a folded plate language – actually dually - in context with the city and between itself and the original "Tornhuset".
.
.
"The form of the project emerged from a fascination for the roof in the original "Tornhuset" which, at first glance looks conventional, but is an unexpected formal play based in a simple gable logic, which is then embellished in response to the precise geometry of the floor plate below," informs TERROIR. "We adopted a similar strategy, laying out a series of formal alignments with the existing building that were then elaborated upon in response to the need for views and also light penetration to the spaces within – all while presenting a largely solid form in elevation."
The cladding material is aluminium sheeting, a simile for the painted metal sheet traditionally used in both Swedish and Australian architecture – an unexpected overlap between the contexts, where the two collaborating practices are based. The colour of the roof sheeting is related to the roof of the original Tornhuset.
The organisation of the project is based in a response to a simple programmatic division between the teaching spaces in the new building, administration in the old "Tornhuset", and socialization spaces in between. The interior of the building is therefore in three parts – a stack of floors with various classroom and research spaces, the refurbished existing spaces and an occupied space void between the two.
The stack of floors is set back on every level as it rises from the street, to open this void to the maximum extent possible to the sky. The resulting space is bathed in the beautiful light for which southern Sweden is known.