Photography: Courtesy the architect
Fusing nature and urban life, the
2015 eVolo Skyscraper Competition Winner -
Essence Skyscrapper by BOMP is a gutsy yet brilliant approach to bring back the soul of a city with its futuristic vertical garden…
Bagging the first place among 480 projects from around the world, Essence by architects Konrad Basan, Ewa Odyjas, Agnieszka Morga and Jakub Pudo narrates a creative response to the dynamic conditions of the present scenario of fast-paced city life. It is a secret garden in the form of a vertical building, combining both, architecture and nature!
Using the building as a neutral background, the main goal of the project is to position non-architectural phenomena amidst the dense urban scenario. Located in the centre of a dense urban site, eleven natural habitats captured by the 30,000 sq. m. tower would become a mysterious place open to the public, offering the visitors a wide range of complex and inspiring experiences.
Eleven overlapping landscapes like an ocean, a jungle, a cave, a waterfall, so on and so forth, tend to stimulate diverse and complex range of sensual experiences - not only visual, but also acoustic, thermal, olfactory, kinesthetic, etc.
A huge open floor plan forms a spectacular entrance area, abutted by the water floor, a gigantic fish tank lifted up to 30 meters above the ground and a group of columns set up to surround the plaza, while supporting the building structure.
The main structure is rectangle-shaped with the core of the building comprising a criss-cross system of ramps and platforms, while the shell constituting the staircase, elevators, and shafts interconnect seamlessly, despite the eleven levels. Technical facilities make up for additional three levels; splitting the tower into four segments, while not interfering with the general space.
The exterior of Essence is wrapped in a semi-transparent façade, blurring the interior view of the outside world, while neutralizing the horizon from the visitor's perspective.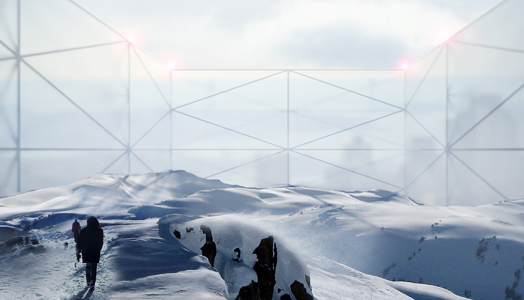 .
Stepping inside this mystical garden, level-after-level sweeps the public off their feet with sensual attractions: a swamp, a dessert, a steppe, a river, grasslands, a huge waterfall, mysterious caves and Rocky Mountains; ending with what appears to be the cherry on the cake is a glacier at the top of the tower!
The annual eVolo Skyscraper Competition is an architectural competition focused on the subject of skyscrapers and raising the question of the future of vertical communities.