Photography: Hufton + Crow; courtesy the architects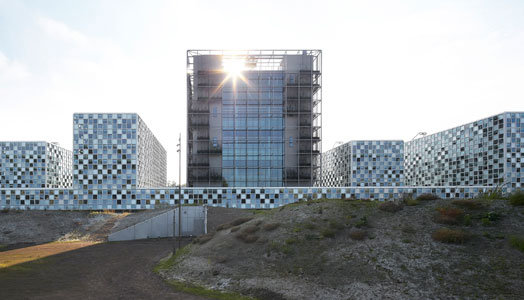 .
schmidt hammer lassen architects integrate beatific landscape and stringent security into design of new permanent premises of International Criminal Court in the Hague, Netherlands.
The new premises of the International Criminal Court (ICC) are ready and the court set to begin its official sessions in its new 54,000 sq. m. home in December 2015.
The project that was won through a prestigious architectural design competition highlights its understanding of the concept of transparency. The design also shows how democratic values upon which the Danish tradition for architecture rests, reflect in an international institution that is subject to some of the strictest security requirements in the world.
As an important international institution, the building is designed as a sculptural abstraction, like a piece of land art - a composition of six volumes, firmly anchored to the site and rising from the surrounding dune landscape.
The tallest of the volumes is the Court Tower. The architectural idea is to continue the cultivated parterre gardens from the ground floor level as a greenery cladding on the Court Tower. With flowers and plants representing the over 120 ICC member countries, the parterre gardens are said to rise up as a green landmark and a symbol of unity, regardless of nationality and culture. The remaining volumes, the office towers, are draped in a tapestry grid, almost like embroidery. The office façade grid is designed with angle and cut-outs, which allows the light to reflect differently in an almost playful way.
Security measures are to the extent possible integrated into the design. The public has easy and open access to the main entrance and the design of the landscape surrounding the building achieves a highly secure environment without the appearance of barbwire and high fences.
One of the primary and most important aims of landscape architects SLA's concept is to 'reunite' the site with this dune landscape. The primary idea has been to locate the complex as a cut in the landscape, establishing an interior that relates to the international collectivity of the ICC, and an exterior that entrenches the ICC to the local Dutch landscape and opens it to the public.
The new headquarters for the ICC is targeting a BREEAM Excellent certification and the complex is part of the local water-win area. Therefore strict local regulations applied for materials, their possible leaching and work during the construction period as well as several sustainability measurements have been implemented into the design viz.: a heat- and cold storage, which is the largest of its kind in the Netherlands, green roofs, water-saving taps and toilets, automatic daylight control of luminaires for all lighting in offices and biological cleaning of the mirror pond.