Photography: Courtesy the artist
Read Time: 1 min 30 secs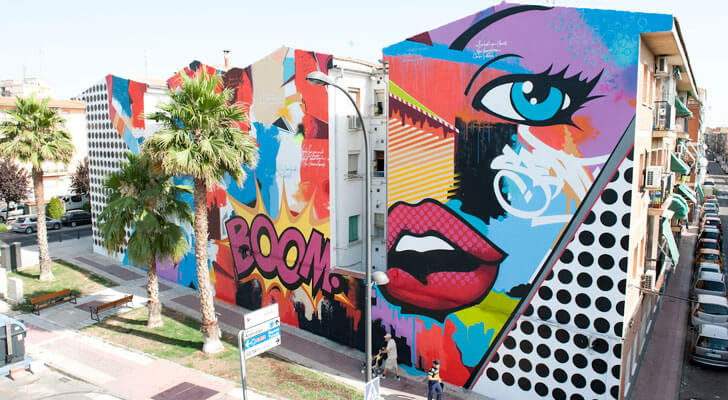 .
Puerto Rican artist Sandro Figueroa Garcia has truly redefined street art with his bold use of colours and patterns!
With over three decades of exposure working in the thick of the urban fabric, Sandro, better known as Sen2, has amassed a wealth of techniques that lends every piece of art he has ever created a freshness and appeal that is truly unique. What's even more remarkable is that all of these are techniques he has taught himself!
Drawing inspiration from his urban surroundings – both, from his childhood spent in a rough neighbourhood in Puerto Rico and his formative years spent in New York, Sen2 has grown from being a graffiti artist to a multidisciplinary one with his own design studio known as Many Styles, established in 2012. And
'Many Styles' is what best describes the 47-year-old artist, who has developed a distinctive design language by combining graffiti with other contemporary styles.
Elements of pop art like vibrant colours, bold lettering, abstract mixtures and patterns and broad lines almost always find their way in Sen2's work, making them at once shocking and aesthetically alluring. Starting off as a graffiti artist, when he moved to New York, Sen2 became part of the renowned graffiti team, Tats Cru, which gave him a chance to present his art at exhibitions in Europe and America. He also got the opportunity to create artwork for music videos of renowned artists like Jennifer Lopez and Missy Elliot.
Most recently, Sen2 was at the Festival Cultura Inquieta in Madrid, where he exhibited over 10 of his latest works and also publicly painted his largest ever mural, garnering immense public support and appreciation.
In all of his experimentation and exposure, however, Sen2 has remained true to himself and his roots. His works, no matter how diverse, always ring with a sense of curiosity and bewilderment. Take for instance his Water Tower project - replicas of water towers are commonly found in New York, which Sen2 initially mistook to be some sort of housing! It is this ability to find inspiration and wonder in the smallest of things that truly defines who Sen2 is as an artist.