Photography: Jonas Bjerre-Poulsen; courtesy V2com
Read Time: 2 mins
Minimal division of space shapes spatial continuity and amplitude in this Sao Paulo penthouse by Studio MK27…
Accolade-gathering Studio MK27 led by principal architect Marcio Kogan and designers Diana Radomysler and Luciana Antunes have done it yet again!
Their recently designed three-storey home that is literally wrapped in Late Terrawood and Corten steel plaques has the library as its most outstanding feature, where floor-to-ceiling bookshelves wrap the walls punctuated by window openings that usher in spectacular views of the city of São Paulo.
With private quarters like the bedrooms on one level; public spaces like the living-dining-kitchen and home office on another; and family spaces like a library with different reading ambiances and a spa with a covered pool, a winter garden and a gym on the third level, the interior architecture attends to the demands of the program with infinite circulations accentuating the fluidity between the spaces and configuring functional pathways.
Diligent architectural detailing carves out a warm and cosy hearth, where the walls are lined in slated wood and the ceiling in a metallic weaved lining. Signature furniture pieces from original Brazilian, Scandinavian and Italian designers with the likes of Hugo França, Hans Wegner, Franco Albini, Gio Ponti among others are priced possessions emanate an understated luxe appeal. What's more, the large corridors are interestingly transformed into gallery spaces to show off the homeowner's collection of art and objects.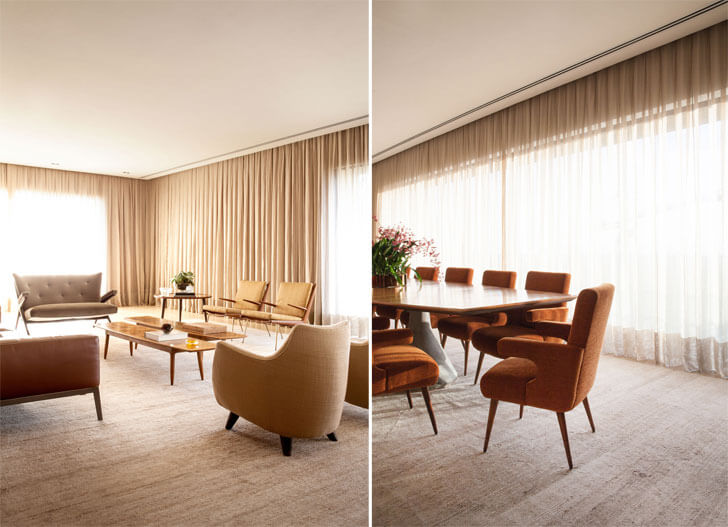 .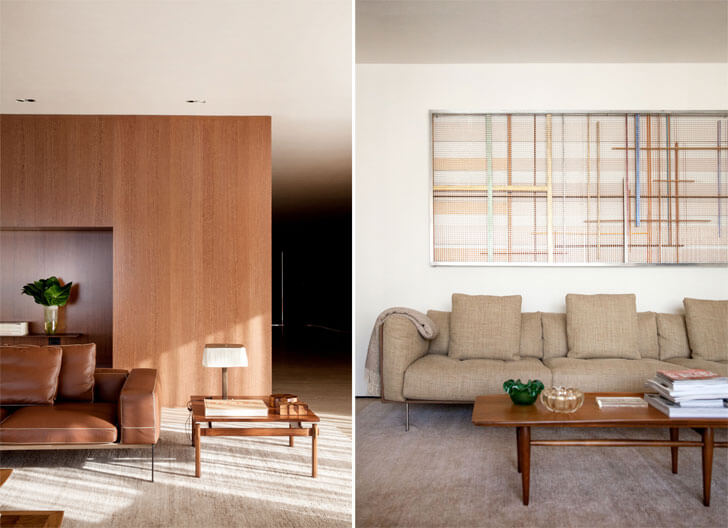 .
The material palette is simple with continuous internal surfaces anointed by a complimenting warm colour palette. Lighting is indirect, playing on the mood as do the throw and underfoot rugs, defining luxe levels in an unassuming chic statement.
Another highlight of this luxurious chocolaty home is a winter garden with dwarf trees positioned in continuity with the covered pool, creating a tropical atmosphere within the privacy of the home.
Coming from the stables of a design house that has been nominated in the 2016 AZ Awards and the latest INSIDE: World Festival of Interiors shortlist, the home stands apart in its simplicity!