Photography: Courtesy v2com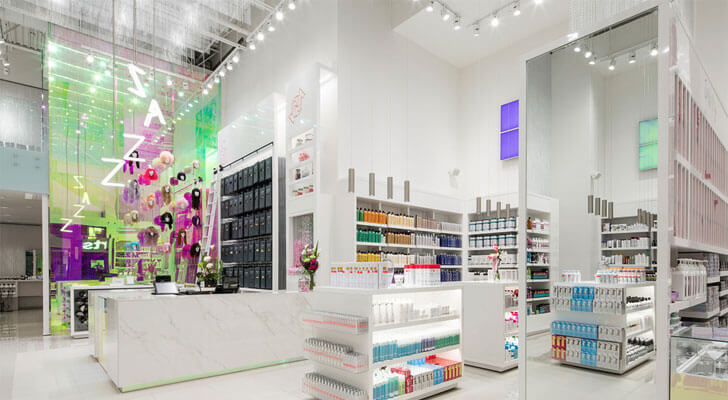 Multidisciplinary creative firm, Hatem+D endorse the importance of a holistic design experience in their comprehensive conceptualisation of Quebec's first Zazz boutique...
Hatem+D have gone all out to reinstate their strong belief in the art of all-inclusive design, where they touch upon various aspects of design in a holistic manner in order to impact and elicit the right customer response.
Working with Zazz for their very first boutique in Quebec, Canada, the design firm was keen that they create a customer experience in which paths lead them through stations displaying different product arrays.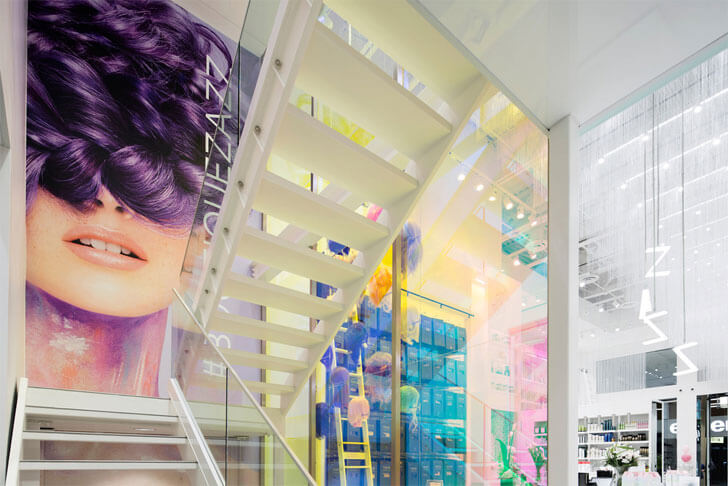 © Maxyme Gagné
© Maxyme Gagné
The general concept is built around the linearity of hair. This vectorial concept is reinforced by custom-made chain curtains that divide different sections of products, thereby creating a distinctive feature. These curtains are also used on the mezzanine to privatise an area reserved for hair and wig stylists. Every element is custom built, from furniture to Zazz's lighting and other unique signage for the boutique.
Every detail is also analyzed: the white, the iridescence, the transparency, the linearity. Shapes, colours and textures are used to emphasise on products and focal design points like the front desk and the stairwell.
© Maxyme Gagné
© Maxyme Gagné
Using the ceiling height to purify the space, Ar. Chloé Barabé introduces suspended and backlit furniture, displays that reach the ceiling, a creative ceiling finish, and several mirrors to accentuate the volume. Add to this ingenious lighting that augments an impression of effervescence and the boutique appears glamorous and inviting from the outside.
Conceptualising and designing in toto, the seemingly feminine synergy of the boutique comes across with a strong identity; reinstating the architect's prowess in an all-inclusive design.