Photography Courtesy v2com
Tea Valley Restaurant & Amphitheatre ©Hasan Saifuddin Chandan
Bangladesh's Dusai Resort & Spa follows time-tested traditional techniques to respond to the call of responsible architecture…
Exuding the essence of a traditional village with its formation along the scenic slopes of the tea plantations of Sreemangal in Moulvi Bazar district of northeast Bangladesh, surrounded by lush greenery, and following the contours of the site, sits 'Dusai Resort & Spa' - the first-of-its-kind destination resort in the country.
Cottages ©Ahsanul Haque Rubel
Designed and built by the country's renowned architectural practice, VITTI Sthapati Brindo Ltd., the resort showcases a hybrid construction system of traditional tea estate bungalows and standardized concrete construction.
The site being largely linear, the building typology applies a combination of traditional and conventional techniques that make the structures more sustainable and have less adverse impact on their surroundings.
Spa ©Digita Interactive Limited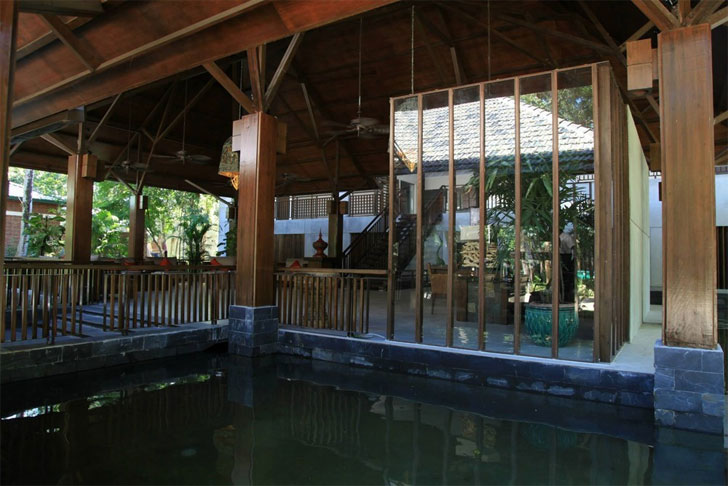 Reception Detail ©Mustapha Khalid Palash
Comprising both, private cottages and the main hotel block, the former are built along the slope on stilts - slender concrete frames anchored to the ground raising the structures above ground. This retains natural balance and keeps the existing dense vegetation untouched. Adding to the contextual aesthetic, a mixed truss system of wood and metal makes roof framing with soft thatch cover, reinstating the extensive use of local technology, materials and workmanship.
Landscape & Walkway©Ahsanul Haque Rubel Hotel Lobby ©Hasan Saifuddin Chandan
Tea Valley Restaurant interior ©Ahsanul Haque Rubel
The main building and the family cottages follow a semi-circular path arranged in an array around a central courtyard, as are the varying functions grouped around courtyards (valleys) forming clusters aligned with hilly slope contours. This again references another traditional aspect of building, where traditional homesteads in Bangladesh feature courtyards and clusters with individual houses built around courtyards, which in turn form clusters.
Entrance and Reception ©Hasan Saifuddin Chandan
Spa & Cottages ©Digita Interactive Limited
The entire resort and its many residential units seemingly appear like a labyrinth, sequencing a procession from the reception area to cottages; with internal roads and walkways traversing along a curved path through the vegetation, allowing the visitor to experience lush nature in circular motions along the labyrinth loop.
Prioritizing nature over built form, all guest rooms are anointed with large open-able apertures that invite nature in, facilitating guests with a spectacular and uninterrupted view of surrounding from their dwellings. Here, nature is not lost in its extravagance but nurtured.