Information: Courtesy v2com
Photography: Maxime Brouillet; courtesy v2com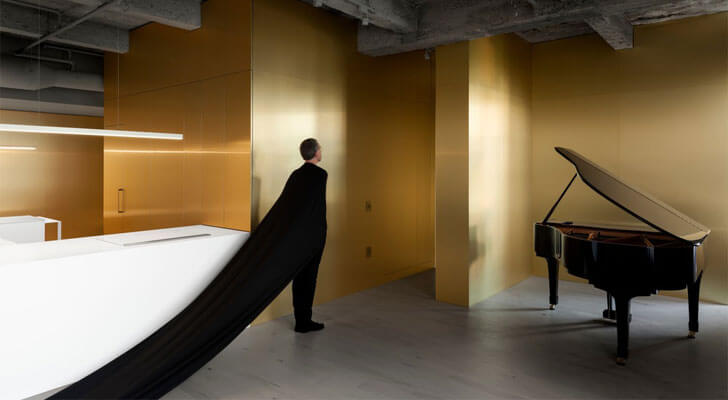 .
Ar. Jean Verville realises IN 1 2 3, three installations combining art, architecture, and domesticity; intimate portraits that present universes in themselves…
The current decompartmentalization of artistic disciplines brings about the emergence of new proposals. Architect Jean Verville demonstrates this hybridization in architectural interventions swapping the user's experience into a spatial and pictorial experimentation, in which sensory perception is asked to transgress the physical limits of space to favour the illusory abstraction of dimensional form and produce architecture that seems free from their function and materiality.
These intimate portraits transpose the personalities of their occupants, while illustrating their moving collaborations with the architect. Jean infiltrates his installations with intriguing photographic proposals in which the presence of an allegorical figure proposes a new modality for appreciation of architecture. IAnD takes a look at installation 3 - IN3...
The installation juggles with excesses and exuberance, while retaining its signature of an assumed minimalism. The proposal calls for mechanisms of perception of space that break the usual patterns of domesticity.
To satisfy everyday needs, and to subtract them from time-to-time to create a working environment that strengthens the maestro's concentration, the bare space skilfully conceals functions in a succession of sculptural volumes. The grey tones of the raw materials unite into a volumetric entity pierced by an immense golden structure deploying to abolish the hierarchy of spaces.
Offering images evolving towards abstraction, this golden ribbon, containing domestic functions as storage units, breaks up space into a single operation of powerful efficiency. The diffusion of a felted and enveloping light invests the place of a mysterious aura that contributes to its theatricality.
The rich contrast between the concrete, the sumptuous golden brass and the immaculate brilliance of the white stones, creates a mineral character that encourages a feeling of opulence, intensified by the presence of a triumphant piano. Wandering in this clean and refine space, at the same time of an unusual expressivity, proposes sensations blurring the spatial perception to reveal a sculptural proposal of an extreme sophistication.
Internationally acclaimed Ar. Jean Verville presents a diversified production of architecture, installation, and scenography. The architect's interest lies in the possibilities of hybridization between arts and architecture and their impact
on the architectural creation process.
The installation is spread across 160 sq. m. and uses wood, brass, concrete, quartz, marble, mirror. Collaborators include François Bodlet and Stéphane Gimbert.