By Rutvi Ashar
Photography: FENG Jian,Jossy LIN, Shenzhen Shifang Photography Co., Ltd. Courtesy GD-Lighting Design
Read Time: 2 mins
.
Lighting consultants, GD-Lighting Design employ principles of minimalism and optimum functionality to bring alive the interior design at the mixed-use Poly Yuzhu Port project, Guangzhou City.
We have seen great architecture being let down by poor interiors and vice versa. In our opinion, the one element of design that can salvage this - is a good lighting scheme!
.
Grand Sight Design, Hongkong's project at the Poly Yuzhu Port, Guangzhou City is a high-quality city complex integrating residence, commerce, entertainment and office, where the designers have disregarded traditional lighting schemes to focus on three fundamental aspects of the illumination of spaces: aesthetic appeal of the building; the function of the lighting and lastly, the energy efficiency issue to ensure that light is not wasted by over-illumination.
.
.
.
.
Poly Yuzhu Port Office Sales Centre is designed as a black-and-white space supplemented by bright-coloured statement items, with a simple and personalized design. Under the expression of the concise and lively, the structured lighting design emphasizes on the carefully selected and decorated artwork creating pockets of surprise that form a delightful contrast with the space, creating a work environment filled with vitality and imagination. Moreover, the extensive use of dark textures with warm white light give expression to the open planning of the space, reflecting the atmosphere of the office enterprise.
.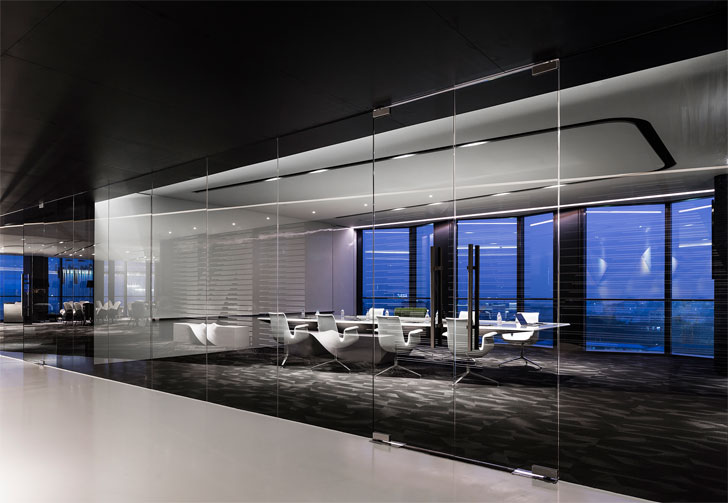 .
.
Largely, the lighting inserts cover natural surfaces such as the façade, where backlight illuminates the vertical white screen to form a silhouette with rust industrial artworks. The U staircase, the architectural highlight is further enhanced by a block surface formed by monochromatic lines and waves. This light highlights the white vertical three-dimensional layering and the black part uses the LED linear tape lights to draw the outline of U-shape flow lines.
.
.
.
Playing on visual perception of the space in a premeditated manner, chiaroscuro elements are used as focal points highlighting tight space settings, the staircase, artefacts and the like. LEDs are camouflaged within troughs for effect. Halos are created around functional spaces, thus creating a focus and placing the function in the limelight in the otherwise open plan.
Client: Poly Real Estate (Group) Co. Ltd.
Design Firm: GD-Lighting Design
Principal Lighting Designer: WANG Yen-Chin, REN Hui, Kiki CHEN
Built-up Area: 1,84,414 sq. m. (19,85,015 sq. ft)
Location: Guangzhou City, Guangdong Province, China